Last Thursday Paula's team (Paula was in the South of France for our latest destination wedding) attended Caroline Castigliano's event for bride's-to-be at her Knightsbridge flagship store. We were thrilled to attend alongside industry partners who are all at the top of their profession. We wished to share some snippets of the wonderful evening with you!
Paula designed the entrance of Caroline's Knightsbridge store for the inspiring evening with stunning columns of gorgeous foliage weaved with the most beautiful white roses, spray roses and hydrangea. As guests entered through Paula's floral columns the illustrious summer scent of the flowers flowed throughout the store. Paula worked her magic to combine the perfect dose of sight and scent for a hot London evening.
Caroline Catigliano bridal gowns are individual statement garments that are structured to enhance the female figure. Caroline herself is a phenomenal business women who continues to excel in her field. Paula adores working with her many Caroline Castigliano brides as they hold an incredible vision for the extraordinary, and radiate a mixture of classic and contemporary beauty with a flawless elegance that makes them the centre of their special day!
Caroline's sense of community within the wedding industry is what connects her so well to brides and her fellow collaborators. I have always followed Caroline's journey and in turn she has been a wonderful advocate of Paula Rooney Floral Design. Creating a vision for a bride is about the entire journey that will create lifetime memories. When engaging with a bride it is vital to surround yourself with a positive, creative and hardworking team and you couldn't find a better partner than Caroline.

Paula Rooney, 2018
Caroline Castigliano has been at the forefront of luxury British bridal and eveningwear for 27 years. Her gowns create impact from the moment her brides enter the room! Caroline's ode to effortless glamour, sleek classic lines and contemporary touches give her creations the regal attention they deserve. Designed to be unique in every sense, her stylish bridal gowns exude confidence. Each garment is cut and handcrafted in the United Kingdom with the crème de la crème of fabric. The foundation of the gown, unique corset and technical undergarments – which sculpt the entire gown – remain at the forefront of her design process.
On Thursday evening we had the joy of an exclusive viewing of Caroline's latest bridal and eveningwear collections, including gowns exclusive to her flagship store. A selected few industry partners were on hand to talk about their brands and creating a flawless experience for brides; Hannah delivered a powerful speech on the ethos and luxury Paula Rooney Floral Design brand. Berry Bro's & Rudd set the tone of the evening with their splendid British champagne flowing while brides-to-be gathered to view Caroline's latest lines. World leading diamond company De Beers accompanied Caroline Castiglino's bridal gowns with a selection of their awe-inspiring diamond jewellery. Representatives from Charlotte Tilbury and Richard Ward came with their A-list bridal hair and beauty styling. Charlotte has demonstrated a feisty female approach to to her growing brand and we love watching her shine! Leading international wedding planner Bruce Russell spoke about his passion and commitment to providing bride's with the most unforgettable wedding day. Paula and Bruce have worked together since their early industry days and continue to compliment one anothers planning style. An ambassador of Scott Dunn amazed us all with their exclusive portfolio of honeymoon properties and experiences. Our friend Andy Mac, leading wedding and celebrity photographer, was on hand to capture the elegant evening. With all of the weddings Andy and I have worked on he creatively photographs happy couples in a candid manner.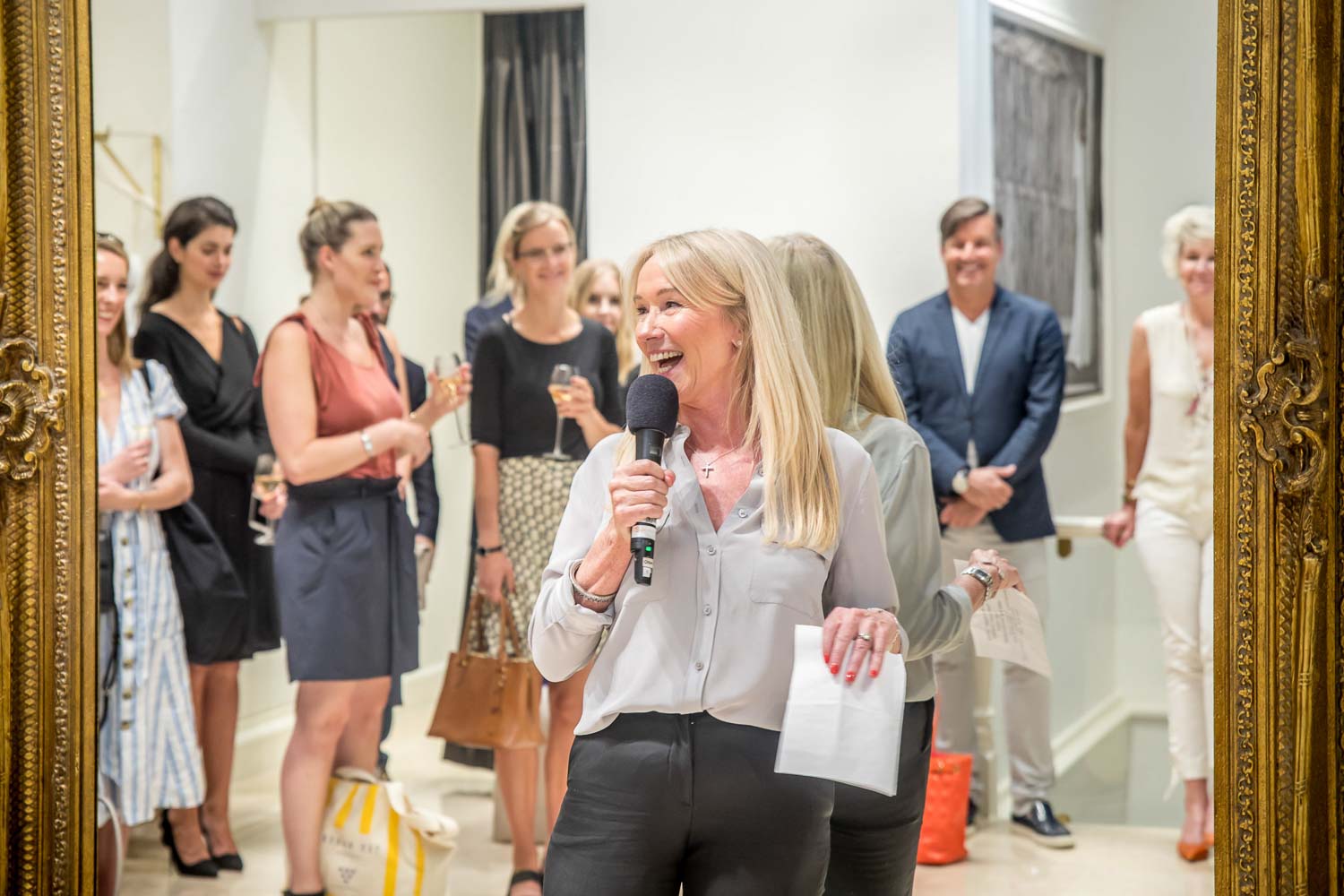 Working with Caroline is a breath of fresh air! Like Paula Rooney Floral Design, Caroline places an emphasis on being the strong female face of her exceptional brand. She believes in a bride's connection with all aspects of the wedding planning process; from selecting the perfect gown, flowers, venue and photographer she takes pride in promoting an exquisite bridal journey. We look forward to continuing our work with Caroline Castigliano and updating you on the projects we are collaborating on.
*All images courtesy of Andy Mac Photography*
Are you a leading wedding industry supplier and would love to collaborate with Paula Rooney Floral Design? Contact our Brand Manager to get the ball rolling at [email protected]