Our 'Real Wedding' series is proud to introduce our Arabic Wedding at Four Seasons Ten Trinity Square in London. We are looking at Paula's special partnership with Ten Trinity, and how her floral vision seamlessly blended with the surroundings of the iconic hotel.
The Grade II listed building has been preserved with integrity and remains as elegant as it did a century ago. For Paula any creative project with Ten Trinity Square is a dream one; working with a team of extreme professionals at London's landmark hotel allows Paula to expand her design process.
Ten Trinity Square, London
Since December 2016 Paula has been working as the in-house floral designer at the Four Seasons Ten Trinity Square, London. Paula's partnership with one of the world's leading luxury hospitality companies aligns with Paula Rooney Floral Design's values as both perform to an exceedingly high standard of fine detail and design.
The Four Seasons Hotels have always focused on customer experience, and this is what led Paula to originally fall in love with them as a brand. Paula has long frequented Four Season locations in London for business and pleasure so when the opportunity arose to work closely with them she jumped at the chance! In the heart of London's historic district, Ten Trinity stands as a landmark to travellers and London natives alike. Nestled between Tower Bridge and the Tower of London the hotel is a focal point for exploring the old and new neighbourhoods of the city. Paula draws upon the local features to create her weekly floral installations.
When planning our wonderful clients Arabic wedding Paula considered the intricate decor and historical aspects of each space; working to fit each design was an extremely tactile process with differing dimensions. Paula worked closely with our dear friend, Lisa, Head of Events at Ten Trinity to seamlessly blend the couple's wishes in keeping with the hotel. With a lot of hard work the final product was spectacular.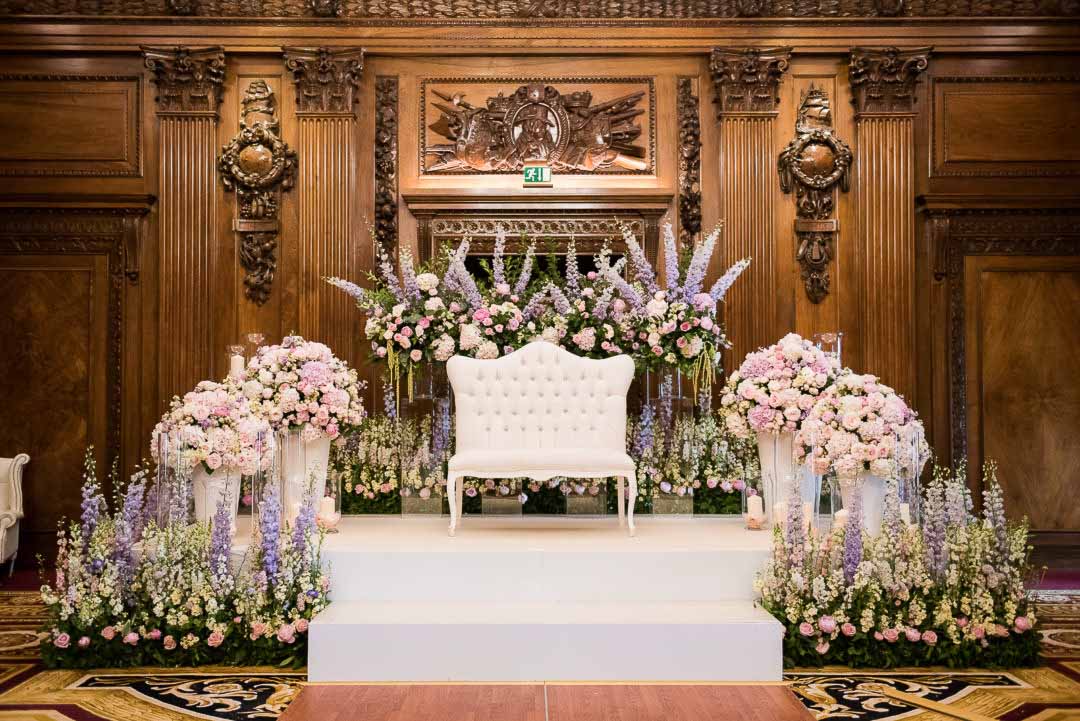 In Full Bloom
From the hotel's Reception Room, UN Ballroom to the incredible Floral Stage Paula designed installations in a range of pastel colours that created an enchanting garden feel in the height of summer. Pale pink peonies, O'Hara roses, cream and pink David Austin Roses, bombastic white and spray roses, very pale pink hydrangea, lilac seasonal flowers, sweet avalanche roses and lilac and white delphiniums were the wedding flowers selected by the happy couple.
The UN Ballroom was the centre of the wedding where photographs were taken and where guests were met. It was set up as a lounge area with stunning ball shaped glass flute vases in the shades of the wedding. Flowers were framed around the Bride's entrance; a combination of large and loose designs with plenty of eucalyptus and pastel wedding flowers.
The focal point of the venue was the Bride and Groom couch situated at the end of the aisle. At either side of the couch there were three containers of varying heights with beautiful arrangements in pastel colours. The beauty was enhanced by placement of candles which set a romantic tone for the couple. A statement floral stage border was created with pale lilac, pinks, creams and light greens. Pale pastel coloured tall delphiniums, larkspur, ammi and stocks with greenery encouraged the garden feel. The border was placed around the stage and produced a huge impact!
Tea Please
Our special friend, Carey Sheffield, was the Madrid photographer. Carey holds the beauty of photography in every shoot she captures. Being around Carey while at work is something to cherish as she makes the experience fun and creative for every couple. Carey doesn't only create images that last a lifetime but every photograph is a work of art that evokes feeling and beauty. Paula and Carey have had a special relationship since Carey was Paula's wedding photographer in 2015; she produced the most stunning catalogue of wedding photographs from Paula's unforgettable day!
Cake
Cakes by Krishanthi excelled themselves yet again to make a stunning cake that made every guest gasp with amazement! We love working with Krishanthi as we anticipate what marvellous creation she will next unveil. The couple's cake was as spectacular as their wedding day!
Photographer
Our friend, Fiona Kelly, was the photographer for our beautiful couple. Fiona has an incredible talent of capturing the most relaxed and natural shoots of a happily married couple's along with the small moments that fleet by when a couple are greeting guests or in a blur of their momentous day.
WITH SPECIAL THANKS
The couple's family were amazing to work with; they were extremely humble throughout the entire process. The Mother of the Bride was a charming woman who complimented all of my team's hard work in making the wedding venue come alive! Working closely with Four Seasons Ten Trinity Square to create a dream Arabic wedding was an honour. Utilising their magnificent spaces and impressive decor as the backdrop for the couple's special day is what a designer's dream is made of! We are excited to continue dressing this impressive venue for weddings and events.
Are you interested in discussing Paula's design process for transforming exclusive wedding venues? Paula Rooney Floral Design is the in-house floral designer at Four Seasons Ten Trinity Square, London. Her team of expert florists create outstanding weekly floral installations for the luxury hotel, weddings and events. Contact us today to discuss your wedding dreams!