Paula Rooney Floral Design now works globally and we love going on a journey with our couples when merging to create floral installations that align with their wedding destination.
Last year we had the privilege of working on a stunning Spanish wedding outside of Madrid. The location, planner and our creative collaborators made it one to write home about so enjoy the first of our 'Destination Wedding' round ups.
At Paula Rooney Floral Design we love to draw upon the surroundings of our couples wedding location to bring local culture, colour and texture to their special day. Our floral designs are created in line with the backdrop of their destination. We are very excited to extend our global weddings this Summer with Ibiza and South of France next.

Paula Rooney, 2018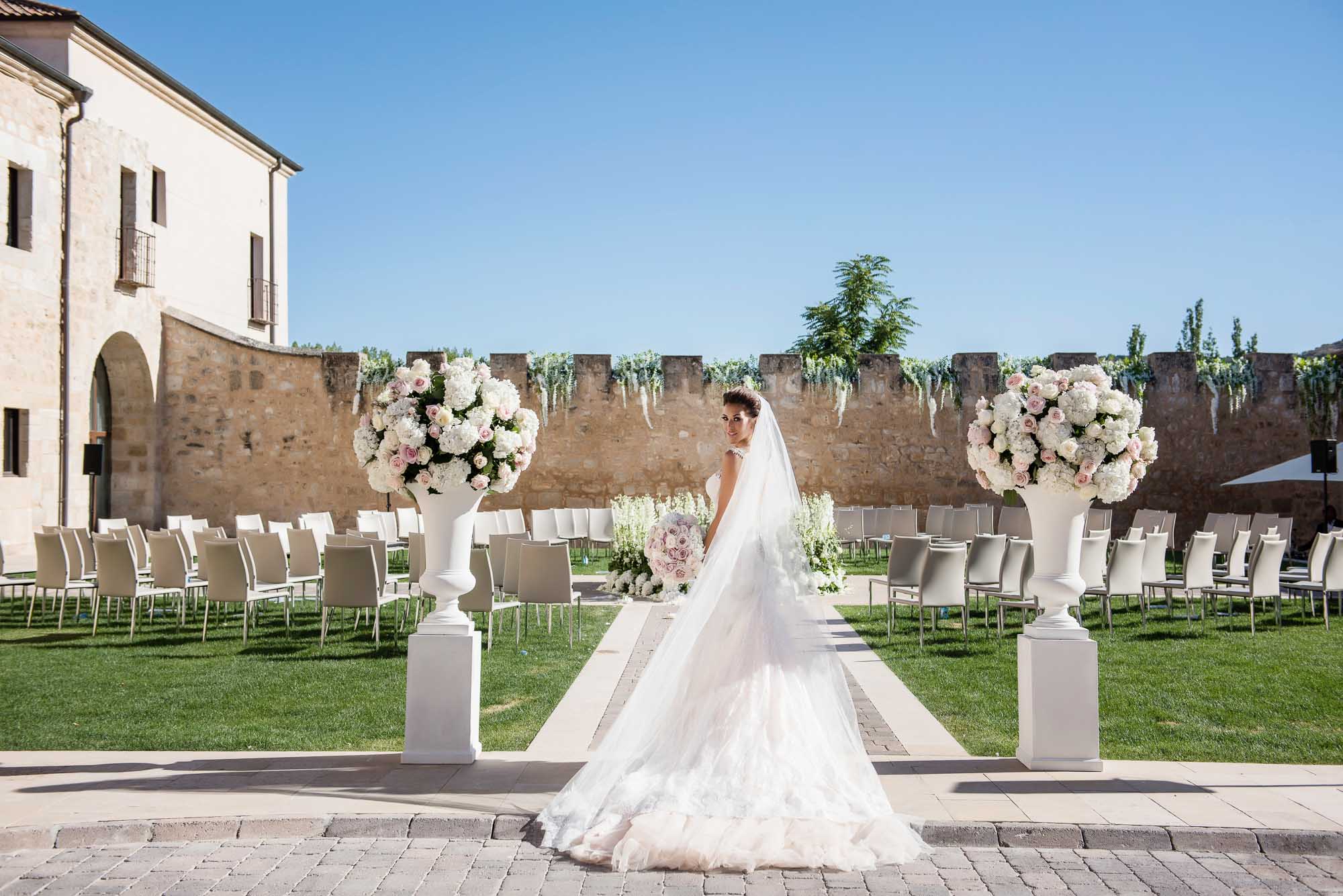 Destination Weddings
Paula Rooney Floral Design continues to successfully bloom with several upcoming international weddings. The destination of your wedding is one of the most important factors in planning the process. We work with couples around the world; exploring different cultures allows Paula to draw from local inspiration to match her bespoke floral designs. We will create a unique floral backdrop for your day that is authentic to the location and venue.
For our Madrid wedding, Paula's team left the week before in preparation for a large floral installation; all of the flowers were then flown over to our team. Paula is always on hand throughout the installation process to make any adaptations that her couple's request. For Paula, a huge part of her joy comes from seeing the final floral result alongside her newly married couples in their chosen venue. There is nothing better than making a vision come alive!
Planned for Perfection
We worked with our friend Jane Riddell of Planned for Perfection for almost eighteen months to create our clients dream wedding in Madrid. Jane magically personalises your wedding vision to match your style. With years of invaluable experience, Planned for Perfection creatively and flexibly moulds your desires into a reality. We adore working with Jane who is an ultimate professional throughout all aspects of the design process.
Castilla Termal Monasterio De Valbuena, Madrid
Situated at the heart of Ribera del Duero, the five star hotel Castilla Termal Monasterio De Valbuena is located in one the best preserved Cistercian monasteries of the 12th century in Europe. With its unique architecture, history and charm it offers an authentic Spanish retreat far from the hussle and bussle of city life but with easy access to all main sights.
Castilla Termal Monasterio was the most stunning location for our Madrid wedding; their facilities have been preserved to their 12th century origins with modern decor and elegant furniture in keeping with the impressive identity of the hotel. Ever the consummate hosts, the hotel staff went above and beyond to facilitate our design process and installations. It was a thrill style varying spaces within their grounds.
Flower Installations
Our clients wedding was over three days and each part of the celebration came with a different design and colour concept which was extremely exciting for Paula to design. Paula firstly went on the site visit with the couple to begin the initial stages of the design process; it was then that Paula sought exciting possibilities from the wedding venue. Paula immediately wished to work with what the space had to offer opposed to working against it! With the stunning courtyard – which would become the setting for the wedding ceremony and evening reception – Paula had the idea to build a stage in the centre with rows of chairs for guests breaking off from each corner instead of the traditional front facing setting. These design decisions automatically made the space more interesting to work with.
The pre wedding dinner was facing the Castilla Termal Monasterio's vineyard so Paula opted for a flurry of vibrant yellow and orange rose designs with a mixture of dripping orchids and fresh fruit from the region in connection with the palettes of wine; this enabled Paula to create a different experience for the guests. The striking colours beamed across the courtyard as the Spanish sun set.
The wedding ceremony and evening reception were held in the courtyard. Paula's floral displays were set in high gold vases with fuschia pink and purple hydrangeas, orchids and pale blush roses. For the ceremony Paula created an opulent floral arch that boasted Castilla's historic beauty! The evening reception was lit by candle light which added a different feel to the courtyard space.
The couples white party ended the three day wedding celebration. The relaxed finale allowed Paula to create a floral wall decorated with tropical foliage, cascading orchids and bespoke initials. Paula loved creating this vocal backdrop to end an extremely sleek and luxurious wedding!
Snap
Our special friend, Carey Sheffield, was the Madrid photographer. Carey holds the beauty of photography in every shoot she captures. Being around Carey while at work is something to cherish as she makes the experience fun and creative for every couple. Carey doesn't only create images that last a lifetime but every photograph is a work of art that evokes feeling and beauty. Paula and Carey have had a special relationship since Carey was Paula's wedding photographer in 2015; she produced the most stunning catalogue of wedding photographs from Paula's unforgettable day!
Cake
Elizabeth's Cake Emporium is the creme de la creme of luxury wedding cake producers. Founder, Elizabeth Solaru, has been at the top of our industry for over ten years and is internationally renowned. The cake for our Madrid wedding was spectacular; with lemon and lime flavouring on the top layers and raspberry on the bottom.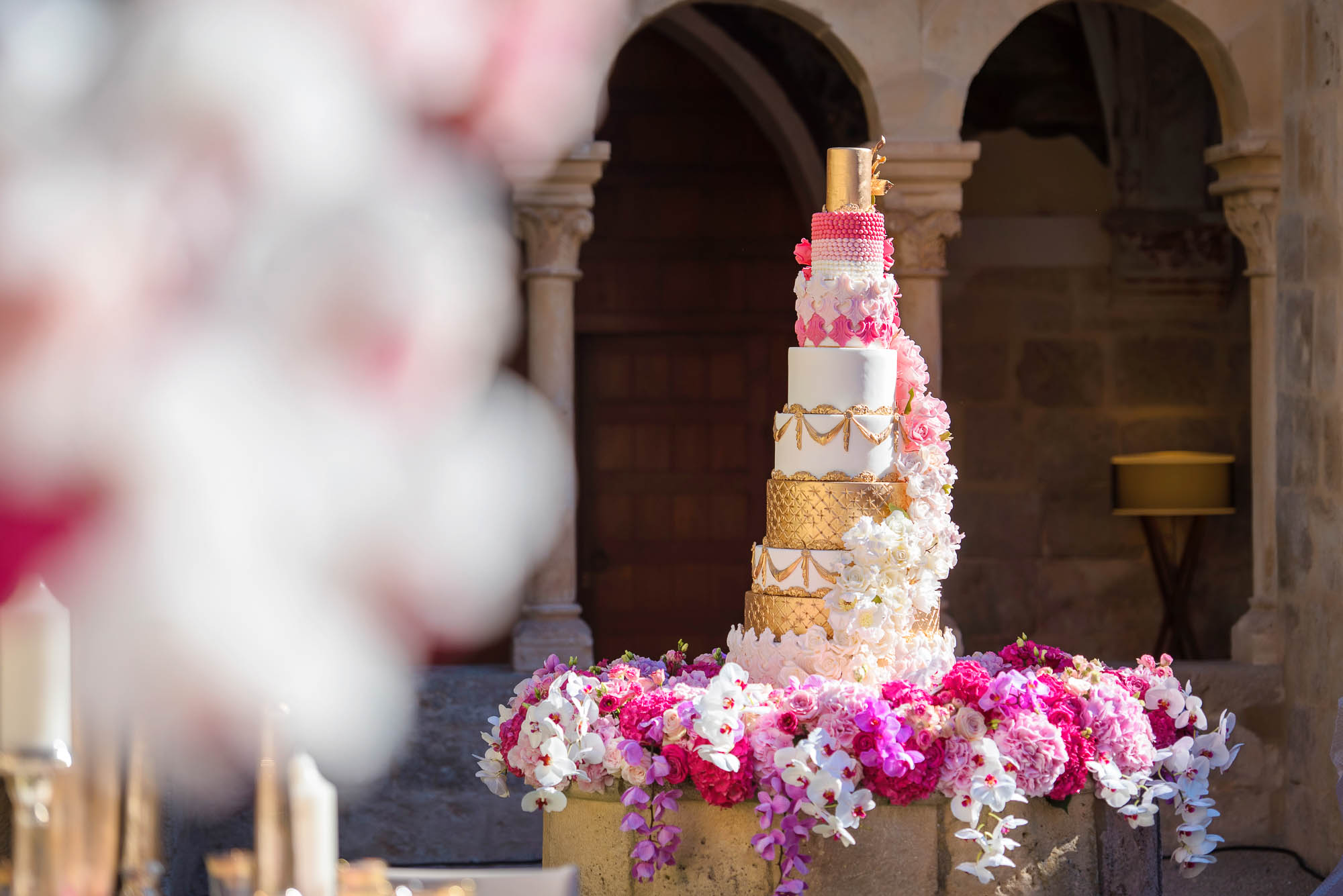 WITH SPECIAL THANKS
We loved taking our design and installation process to Spain. Working in Europe brings logistic challenges but plentiful triumphs. We couldn't have made the destination wedding such a success without the co-ordination of our creative collaborators and the flexibility of the wedding venue.
Paula and her team are currently in the South of France for our next destination wedding so follow along on social media for all their updates.
Are you marrying your Prince Charming in a far off land? Paula Rooney Floral Design will curate your destination wedding dreams into a reality. Call us today to discuss your wedding location and vision with Paula.