We are very excited to share our Garden in the Sky styled event from last month. Paula had the pleasure of designing our client's dual 60th Birthday and 30th Wedding Anniversary celebration at their Hampshire garden marquee.
When Paula first engaged with our wonderful client, she was eager to get underway with her design process. Hampshire based weddings and events are close to Paula's heart as she has a true sense of working with local suppliers to promote the talent we have within the county. Paula wished to bring our client's ideas alive by embracing scent, texture and foliage to allow nature to flaunt itself! Paula and her team were able to reflect our clients' vision under a whimsical marquee bursting with seasonal British and boho flowers.
Our Garden in the Sky event was inspired to become an evening where guests would be met with the best of local and British flowers bursting with colour. Our client's wonderful garden spoke to us and was the starting point for my design process. From there I envisioned a chic and bohemian appearance that exuded a whimsical floral dream yet remained true to the setting.

Paula Rooney, 2018
FLORAL INSTALLATION
The colour palette for the celebration was plums, pinks and lilacs with a pop of orange. Guests entered the marquee via our client's perfectly groomed cutting garden with the interior of the marquee resembling the outdoor colours. Stunning hanging designs of silver birch with meadow flowers such as lilac, lavender and stocks cascaded downwards and hovered over 18 feet tables. The designs were loose and organic with the silver birch creating a soft green effect. Gorgeous cluster pots of meadow flowers: larkspur, lavender, nigella, alchemilla, port sunlight roses, mint and rosemary were styled along the length of the banqueting tables to create a whimsical flower tablescape.
The event install began on Friday with Alresford Marquees; we installed the greenery then the fresh flowers were collected and installed on Saturday. All of the foliage and flowers were locally and ethically sourced. We worked with West End Flower Farm to naturally style the garden led event. Designing our Garden in the Sky allowed Paula to seek British flowers that evoked summer and the warmth that comes with it. Paula's versatile design process is led and adapted according to her client's vision. Paula then seeks to execute every event and weddings as a unique artisanal design; taking into considering location and environment.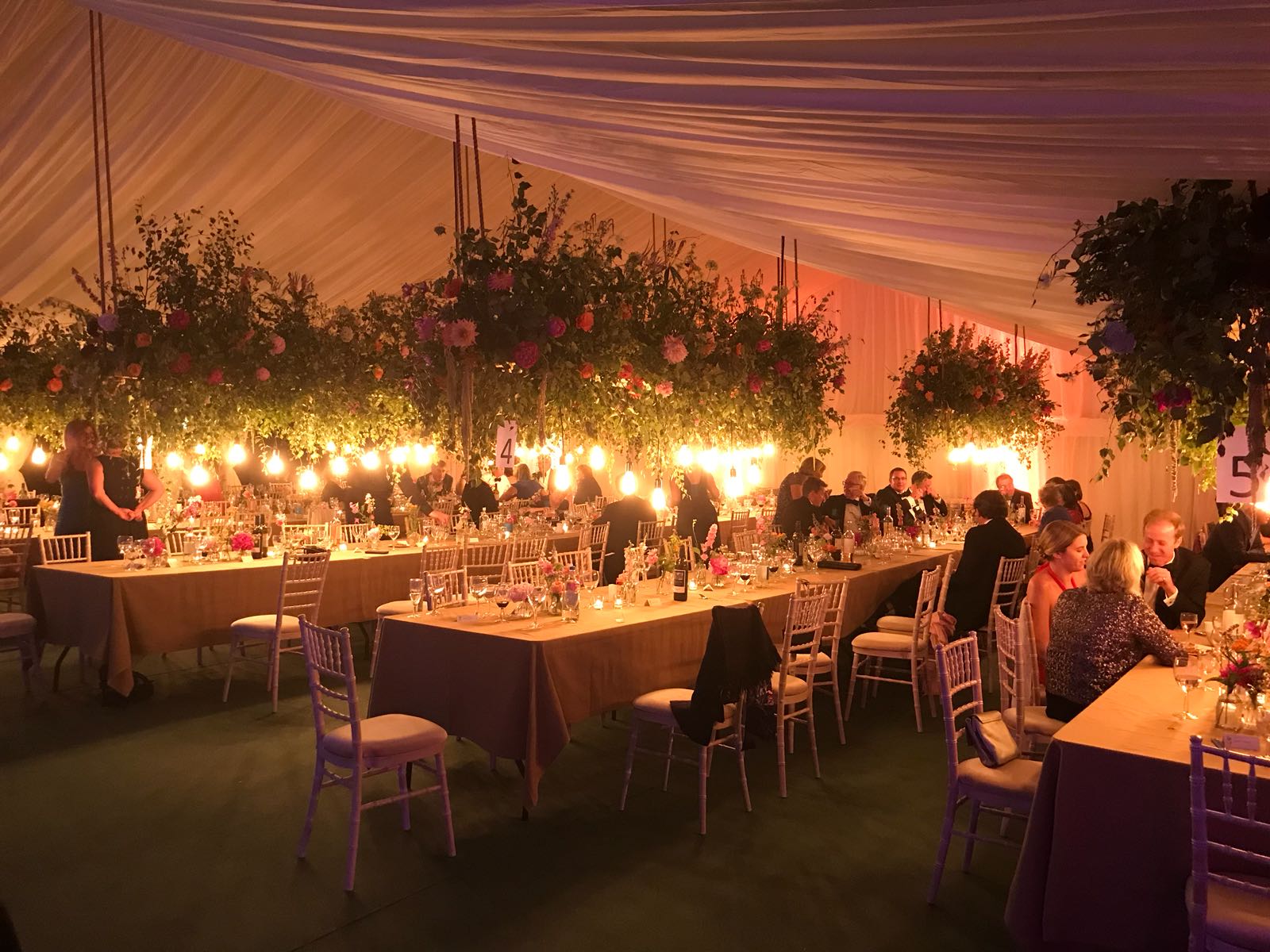 WITH SPECIAL THANKS
Designing for a marquee brings Paula great joy; it starts with a blank canvas and ends with striking floral displays. We were thrilled that our event host was exceedingly happy with Paula's final result. Paula received several compliments on her incredible work!