The team here at Paula Rooney Floral Design have the privilege of working at many luxury wedding venues, and today we are delighted to shine a spotlight on Claridges London Wedding Venue as one of our favourites.
When it comes to luxury wedding venues in London, Claridge's Mayfair just has to be on the list and it is one of the most sought-after luxury wedding venues in the UK.  Steeped in history, Claridge's is a favourite amongst royalty and the rich and famous including the iconic Audrey Hepburn.
As you enter the renowned hotel, the art deco lobby has been a desired destination and the backdrop for many timeless elegant wedding portraits, in the hotel's 100 year history.
There are many different suites to get married in, but the ballroom in particular is the essence of legends, with its own private entrance and interiors shimmering with gleaming marble and mirrors.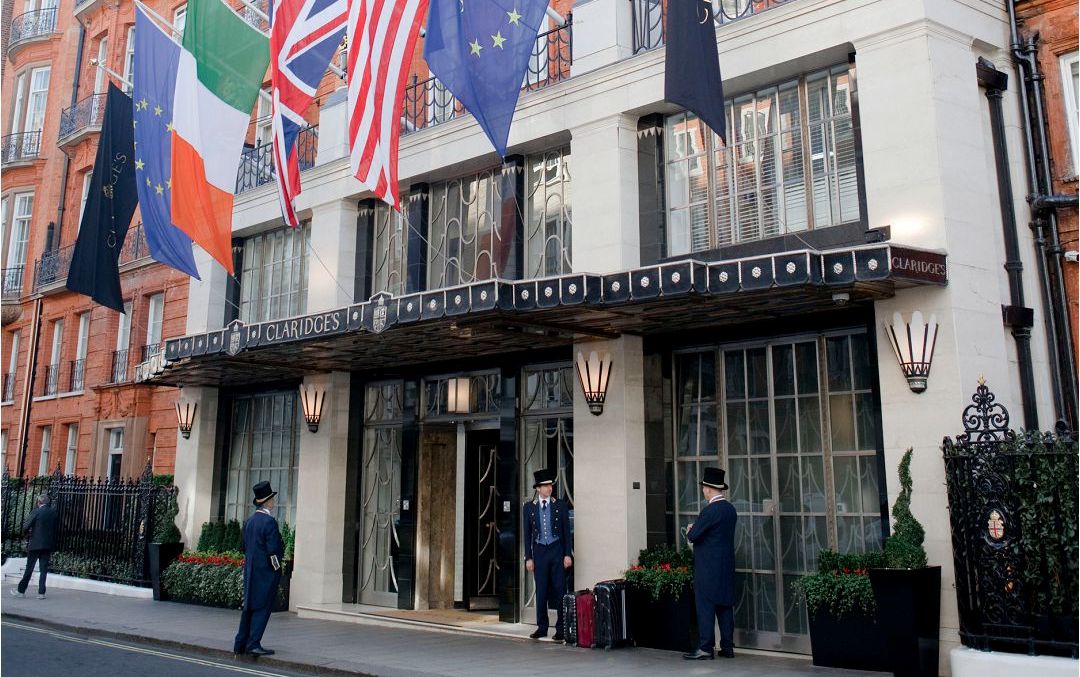 The Ballroom
The English Heritage-listed ballroom has a long history in hosting influential events in its art deco style, everything from state banquets, magnificent balls and of course society weddings.
Even before you enter the ballroom, Paula and her team can create design structures and installations throughout the hotel, such as this ombre door frame structure with accompanying vases and decorations, for your guests to enjoy before even entering the ballroom.
The ballroom provides wonderful scope to design your wedding and floral designs to complement this elegant backdrop, with vaulted clear table centre vases, steeped in magnificent blooms.
The Drawing Room
Additional spaces including the beautiful 18th Century Drawing Room with its graceful room features including fine open fireplaces as well as the imposing portrait of the Lady in Blue.   The Drawing Room can seat up to 120 for a reception and 96 for an elegant and sumptuous dinner for your wedding guests.
A Real Wedding
For this beautiful Claridge's wedding, Paula and the team created a neutral colour palette. To compliment the use of gold in the dining room, white roses, hydrangeas, veronicas, astranthias, spray roses and amaranthus were used.
The flowers in the bridal bouquet below are roses and hydrangea.
In addition to the decadent wedding spaces, you can always spend your wedding evening in the Grand Piano Suite, decorated by Diane von Furstenberg with the option of its own butler.
This is how you do luxury Claridge's style!