From interviews with our creative collaborators to trending industry topics we aim to show you inspiring aspects that contribute to Paula Rooney Floral Design's growth and success in an evolving industry. Our 'Spotlight' series will include raw and fun articles that brides and eager floral designers alike will enjoy reading.
We will firstly look at Paula's rebranding shoot, her growing team and the current ethos of her successful international brand. We look forward to sharing more with you so stay tuned…
I am so excited about the growth of our Floral Design brand. We are continually expanding our vision with inspiring industry content and trends in order to stretch our creativity. With the awakening of our journal we are purposely showing the world what we do best at Paula Rooney Floral Design.

Paula Rooney
Our Journey
Late last year Paula wished to create a sleek new brand image as her business and team organically expanded. Paula worked closely with Typeface Group to achieve her specific rebranding image that is now the face and voice of Paula Rooney Floral Design. Paula's London and Hampshire based teams have grown to exciting new heights, and with their growth comes the opportunity to enhance her artistic ability. The new brand image has taken Paula's business to differing corners of the globe; in turn a wider client scope has brought forth fresh design concepts and challenges for her female powered team.
Every Detail
At Paula Rooney Floral Design we love photograph shoots so we were especially excited to signify our sleek new brand image with a team photoshoot. We went back to basics with the rebranding shoot in order to emphasise and communicate our fundamental values. From the beginning of Paula's floral design career she placed an emphasis on scent and this was highlighted throughout the rebranding shoot.
Visuals of flower installations provide the initial impact and set the scene for an event or wedding, but it is the scent that creates and enriches the atmosphere. It was a very tactile shoot bursting with muted tones, matte colours and textured foliage that together created designs that were truly a feast for the senses. The flowers were styled alongside rich rose-gold, copper and blush pieces creating a luxury look.
Time to Dive in
We are excited to share with you a few new initiatives that have came from the huge success of our rebranding. Paula Rooney Floral Design has been requested in Europe; with the accessible travel across the Channel we are thrilled to partner with talented planners and creative suppliers especially in France and Ibiza this Summer.
Paula Rooney Floral Design continues to successfully bloom with several upcoming international weddings. The destination of your wedding is one of the most important factors in planning the process. At Paula Rooney Floral Design we love to work with couples around the world; exploring differing cultures allows Paula to draw inspiration to match your bespoke floral designs. We will create a unique floral backdrop for your day that is authentic to the location and venue.
Paul Rooney Floral Design Academy
The Paula Rooney Floral Design Academy will help you ignite your passion for floristry whilst equipping you with the necessary knowledge to flourish and grow at doing what you love. The Academy was born from the desire to impart knowledge, skill and expertise within floral design and to raise standards within the industry. There is a growing trend in the business for larger scale, global reaching installations and there is a demand for world-class designers and services.
With nearly 25 years in the industry, Paula wants to share her experience with you. From her original roots, Paula wishes to communicate her true business story – it wasn't all a bed of roses – and to show others that they can do it too! Paula will encourage you to realize your full potential and empower you to navigate the floral design industry successfully, and more importantly, without compromising yourself.
Courses to be announced very soon on our website and social media channels.
In our fast-paced world we are all connected and receive information from the internet. Our rebranding has allowed us to bring our journal alive with our Brand Manager, Danielle, bringing fresh content twice a week! Our journal will encompass four main categories: Real Weddings, Behind the Scenes, Paula's Diary and Spotlight. Each will bring inside details from our current weddings, creative collaborators and inspiring travel updates from Paula. We love engaging with those in the floral design industry and being inspired by all aspects of the design world; our journal will be a focal hub where we hope to meet as many of you as possible.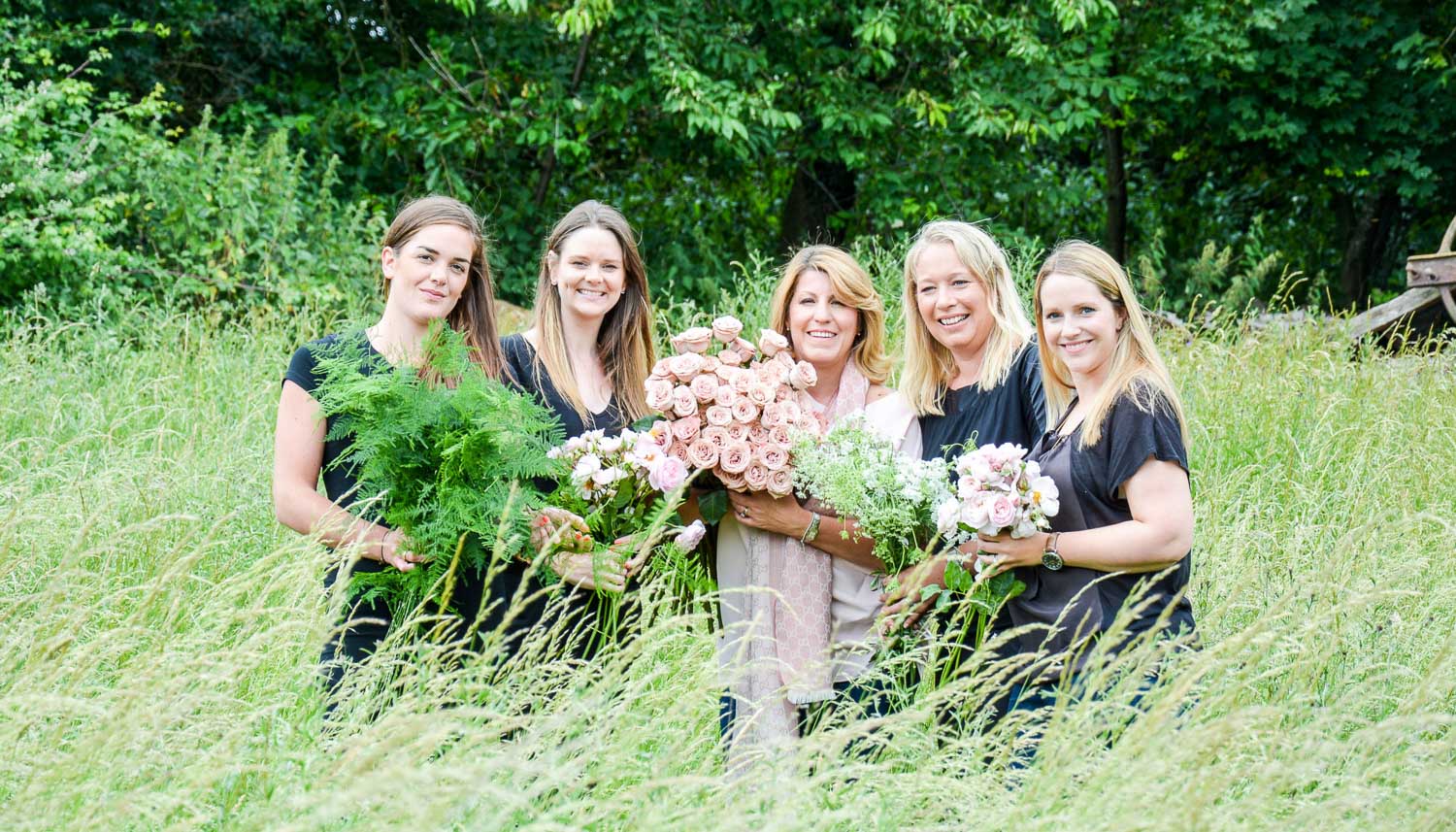 Meet the Team
At the core of Paula's floral design brand are a team of creative females who aspire to push the boundaries of the floral design industry. Paula has a firm belief in women standing together to push forward and the team behind Paula have perfected this sentiment.
Paula Rooney: Creative Director
Paula is the creative force that drives the Paula Rooney team. Her visionary approach to floral design is unique as is her ability to bring those visions to life. Super organised, Paula runs a tight ship and it is a joke amongst the team that if it's not on one of Paula's famous lists, it didn't happen! Rest assured it is ALWAYS on the list.
Emily Greeve: Client Services Manager
Emily is the social butterfly of the office. Warm and approachable, Emily just loves meeting our couples and working with them to make sure their day is just what they always dreamed of. Emily has been out of the office since mid-October to welcome her first little bundle of joy. We cannot wait for cuddles!
Hannah Lawrence: Client Services
Hannah works closely alongside Emily and adores assisting with the designing of weddings and making sure that everything is just so for our clients. Hannah compliments Emily's touch with providing a first class wedding design process for every couple.
Helen Ellis: Accounts
Helen is always clear, calm and collected. She is a wiz with facts and figures and keeps everything under the surface running super smoothly. We'd be lost without her.
Charlotte Wolfe: Studio Manager
Charlotte has a keen eye for detail and her ability to bring those carefully planned designs to life is amazing. She also keeps our studio in order which, considering all the little trinkets that are in there is no mean feat!
LIara Anselmi-Gardener: Office Co-ordinator
With a background in design Llara is an invaluable member of Paula's team. Llara works closely with Paula to make her ship run smoothly and effectively every day!
Danielle Harrison: Brand Manager
Danielle came on board to fine tune our luxury brand image and bring fresh, inspiring blog content to our website. With a career as an Art Editor she brings her creative edge to the team.
Are you a female driven company creating a luxury brand and would like to join forces with Paula Rooney Floral Design? Contact us today to become a creative collaborator.