REAL WEDDING | THE CLIVEDEN WEDDING OF KIKO AND CARL
This stunning real wedding looks and feels so much like a modern fairy-tale it's hard to resist the urge to start this journal post with the magical words 'Once upon a time'!
---
Complete with an abundance of florals, haute couture dresses and a horse-drawn carriage, Kiko married her handsome beau Carl at the sublime Cliveden House.
The couple chose photographer JohnNassari to capture their epic day and we are thrilled to share some of his beautiful images in this journal post.
From the moment Paula was introduced to Kiko and Carl she knew their wedding would be a special one. Cliveden house, chosen as the venue for the nuptials, is a spectacular Grade I listed stately house hotel set in 376 acres of National Trust grounds. A jewel in the Berkshire countryside, the hotel provides a glorious backdrop for the most elaborate and intimate events and is somewhere Paula relishes working.
Working with the fabulous Melanie Helen at Cranberry Blue Weddings and Lydia Kenny at Cliveden House, both of whom were a joy to work with, we were able to bring Kiko and Carl's floral dream to life with bespoke designs and detailed styling.
Mastering the key design elements for each wedding is imperative. We strive to ensure our couples are swept away by the styling created for them. Ensuring their personal experience is exciting, comforting and abundant throughout their day
PAULA ROONEY, 2018
Kiko made her entrance down the imposing staircase adorned with swathes of flowers and foliage perfectly complimenting her Grace Kelly inspired Valentino gown. For her bouquet, Kiko was influenced by Princess Diana's exquisite cascading bouquet and requested it be filled with sumptuously scented lily of the valley and stephanotis. This style of bouquet requires intricate wiring and immense skill and was hand prepared in the studio on the day of the wedding.
The aisle, lined with sprays of flowers and clusters of candles in hurricane vases drew the eye to the floral centrepiece of the ceremony, the extraordinary fireplace of The Great Hall framed by incredible urns in shades of white, green and blush and enhanced by the subtle yet powerful lighting by Bespoke London.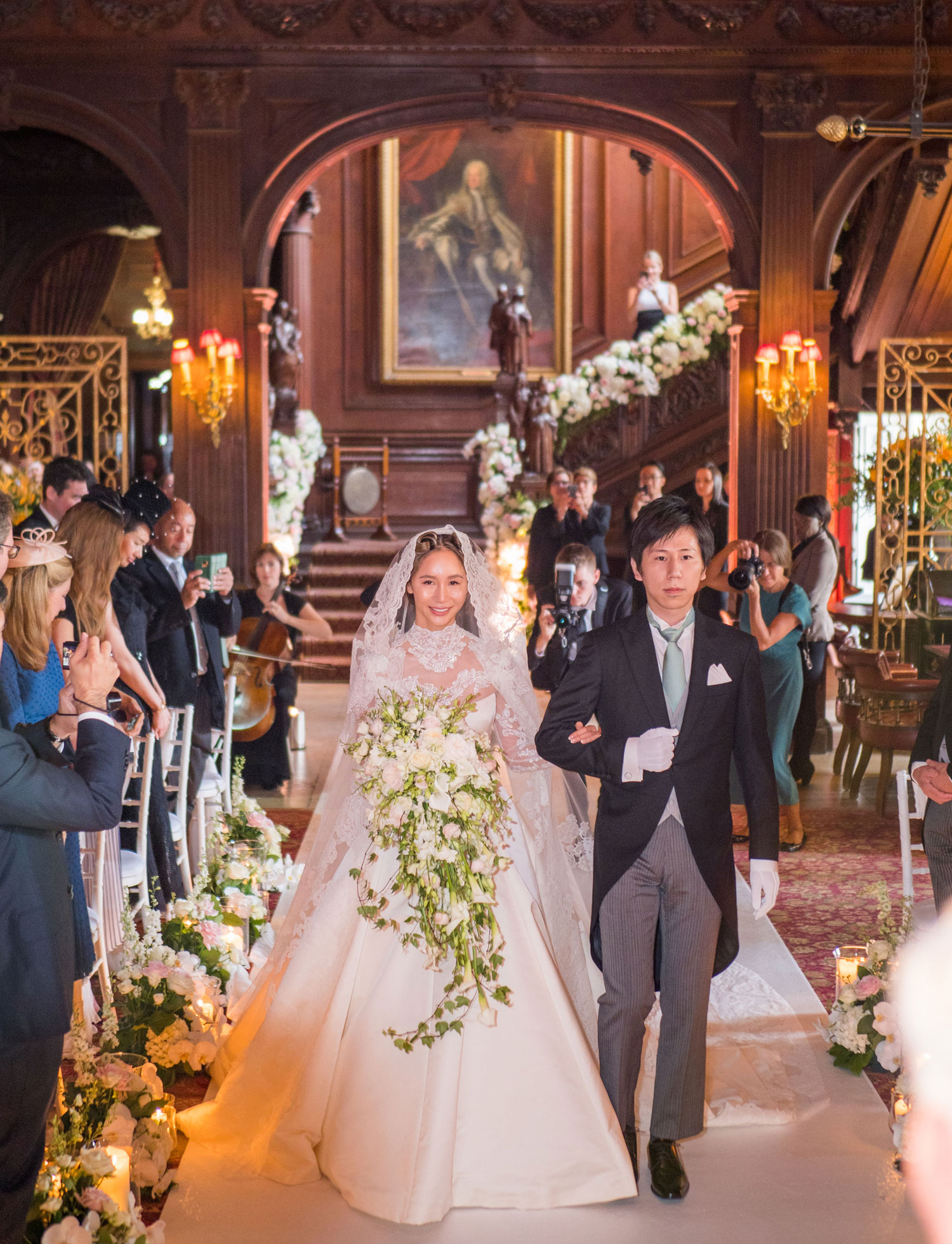 For the wedding breakfast, guests were seated under spectacular floral canopies whilst admiring the bride and groom through cascades of hanging crystals and flickering candlelight. The breathtaking cake, created by GC Couture commanded The French Dining Room with tiers in blush pink and gold surrounded by a fresh floral garland.
We are committed to not only flawless design but also creating once in a lifetime experiences to make a truly unforgettable floral journey for our clients and their guests
PAULA ROONEY, 2018
MEET THE TEAM
---
Cranberry Blue Weddings | Working with Melanie was a joy from start to finish. Her planning and exceptional organisation ensured the wedding was a seamless event.  Sleek, bespoke and sublime in every way, we can't wait to work with Melanie and her team again. www.cranberryblue.co.uk 
Cliveden House | Working at Cliveden and designing for their sensational space never fails to be a thrill for Paula. It is always a huge pleasure to work with Lydia and her team.  Lydia is so passionate about her job but has the ability to make the process fun and relaxed whilst also being unbelievably efficient. Lydia was made for this job and we are excited to collaborate with her on many more special weddings. 
Bespoke Events London | We can't recommend highly enough these silent stars of the show. Our wonderful friends at Bespoke Events London elevate an event in ways that often go unnoticed. The sensational structures, platforms, effects and lighting allow the work we do to truly shine.
GC Couture | Having worked together for many years it was a joy to see Marie and Sach and dress this fabulous work of art.  Their cakes are breathtaking and we are always honoured to be able to collaborate with them.
John Nassari | John is one of the most professional photographers Paula knows. With a talent for making suppliers and clients alike feel completely at ease, you wouldn't even know he was there! His stunning photography caught the day beautifully, we will certainly be looking at them for years to come.
The Function Band | We always know that a wedding with The Function Band is going to be a fabulous one! Fun and full of energy, we always have the most wonderful time when collaborating with this amazingly talented group. We're definitely looking forward to the next party!
Images in this post
Feature images by John Nassari
WITH SPECIAL THANKS
---
A huge thank you to the wonderful Paula Rooney team and everyone we collaborated with on this epic wedding but most importantly to Kiko and Carl who trusted us with their vision and could not have been more delightful to work with. Kiko and Carl, we wish you every happiness!
[et_pb_4divi_masonry_gallery gallery_ids="5339,5341,5343,5344,5351,5352,5355,5357,5358,5360,5365,5376,5380,5381,5384,5386,5390,5391,5392,5393,5394,5395,5397,5400,5401,5402,5406,5408,5410,5411,5412,5415,5416,5418,5420,5421,5422,5423,5424,5429,5433,5440,5441,5442,5443,5444,5445,5446,5447,5448,5449,5450,5452,5457,5459,5460,5463,5464,5468,5471,5472,5473,5478,5480,5481,5482,5483,5484,5486,5488,5490,5491,5492,5494,5495,5496,5501,5502,5503,5504,5508,5510,5512,5513,5517,5519,5520,5521,5522,5526,5528,5530,5532,5533,5534,5535,5537,5538,5540,5543,5544,5545,5550,5552,5555,5556,5557,5558,5559,5574,5575,5576,5579,5584,5595,5602,5611,5614,5615,5625,5631,5633,5641″ gallery_responsive="on" gallery_columns="2″ posts_number="400″ show_title_and_caption="off" admin_label="Kiko and Carl – BTS gallery" _builder_version="3.17.6″ title_font_size_tablet="51″ title_line_height_tablet="2″ caption_font_size_tablet="51″ caption_line_height_tablet="51″][/et_pb_4divi_masonry_gallery]
get in touch
---

PAULA ROONEY FLORAL DESIGN
The Stables, Manor Farm Yard
Upton Grey, Hampshire
RG25 2RQ
United Kingdom
+44 (0) 1256 862 999
info@paularooney.co.uk
Book a free 30 minute skype or telephone
floral design consultation with Paula

---