BEHIND THE SCENES | THE CLIVEDEN WEDDING OF KIKO AND CARL
Welcome to the latest in our Behind the Scenes series. We're thrilled to share with you Carl and Kiko's magical Cliveden House wedding which you can see featured in tonight's episode of A Very British Country House. In this journal entry, we'll take you through the details of the concept, as well as the fabulous preparation.
---
Located in the exquisite Berkshire countryside, Cliveden is both opulent and eccentric. The house is full of period features, antique furniture and luxuriant decor. The Paula Rooney Design team were delighted to work on a bespoke brief for the couple.
Brilliant Melanie from Cranberry Blue weddings created a truly sensational event. Her meticulous attention detail ensured everything was incredible from dawn to dusk. Together this outstanding team of partners transformed what is already a fairy-tale space into the perfect setting for Carl and Kiko's elegant day.
Mastering the key design elements for each wedding is imperative. We strive to ensure our couples are swept away by the styling created for them. Ensuring their personal experience is exciting, comforting and abundant throughout their day
PAULA ROONEY, 2018
The concept
The colour palette selected by Kiko and Carl was crisp white and green softened with a gentle touch of blush ensuring its elegance complimented the bride's incredible Valentino gown. These colour choices flattered the hotel decor, yet boldly commanded their own attention.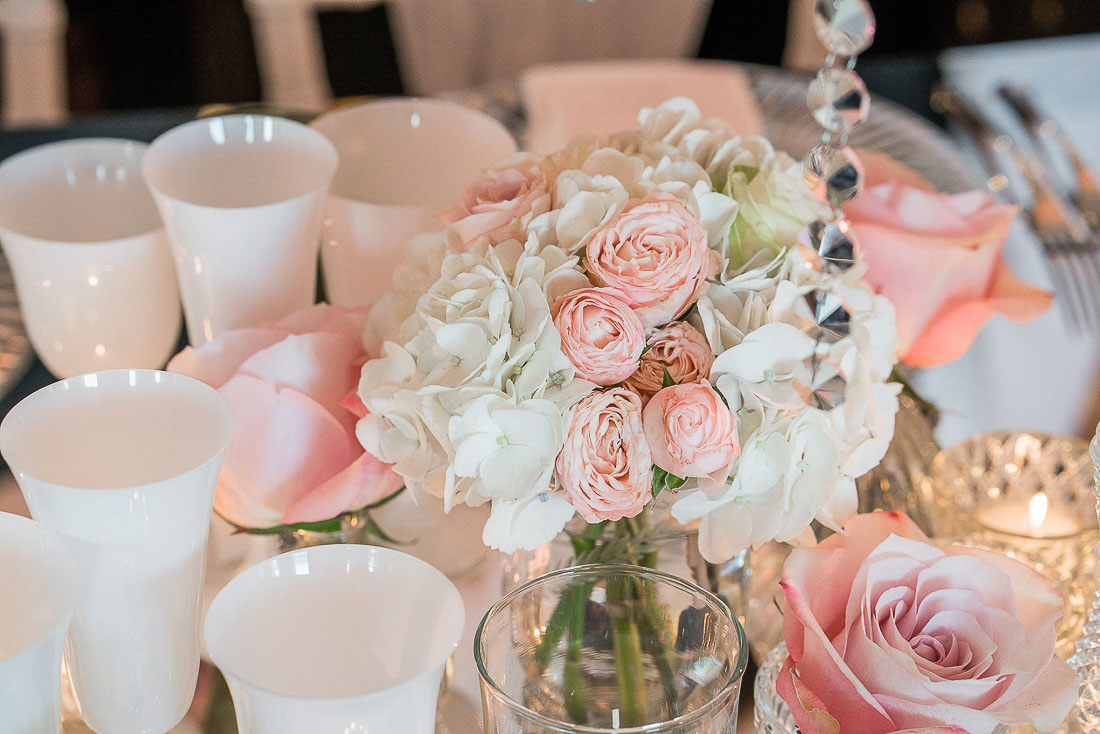 Bouquets, bridal, hair and buttonhole florals
Kiko's bridal bouquet made a regal and luxurious statement. Created that morning in the Hampshire based Paula Rooney Studio it was hand delivered by Paula a short time before the ceremony. Norma Jean, secret garden and patience roses fitted alongside jasmine, lily of the valley, stephanotis and calla lilies creating a full and dramatic trailing bouquet. Flowers for Carl and the groomsmen complimented their sartorial traditional style. Bridesmaids carried divine hand-tied bouquets of avalanche roses and white calla lilies, as well as beautifully scented British white and blush garden and spray roses and freesia all tied with ivory silk ribbon. Flower girls held pretty hand tied complimentary bouquets and wore elegant full circle flower crowns.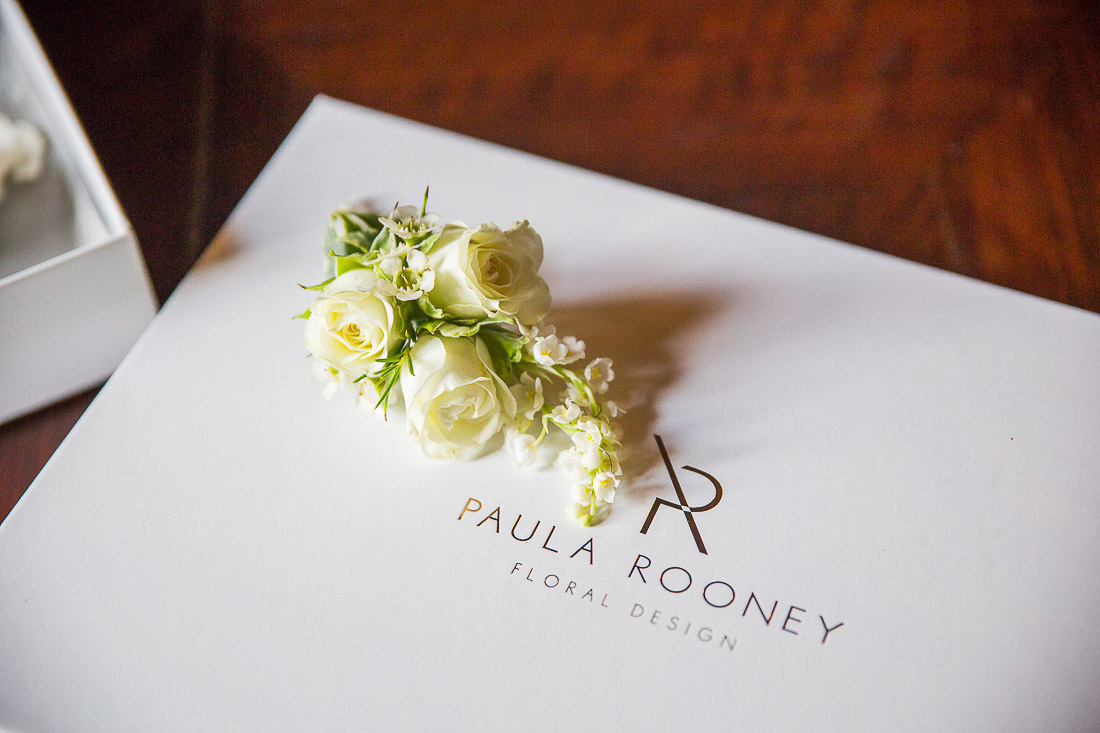 The Staircase
Our aim was to ensure Kiko could make an extraordinary entrance into the Great Hall. A continuous garland of flowers and foliage spilt loosely and abundantly over the gentle turns of the honey coloured wooden bannister naturally and effortlessly following its curves and shape. Paula's floral design created a sensational backdrop to Kiko's walk down the aisle to meet Carl.
The Mantlepiece in the Great Hall
Designing an extravagant fireplace installation in this room was one of the main parts of the brief for this wedding. We were to lusciously and luxuriantly frame the bride and groom as they were exchanging vows.
We worked with the most exquisite flowers to create a captivating cascading design. Phalaenopsis and dendrobium orchids created a photographic backdrop of extraordinary proportions whilst sensational British garden roses perfumed the air of the room, and white calla lilies draped with supreme elegance. Everything cascaded across the vast stone carved fireplace, creating meticulous wedding styling complimenting the majestic atmosphere.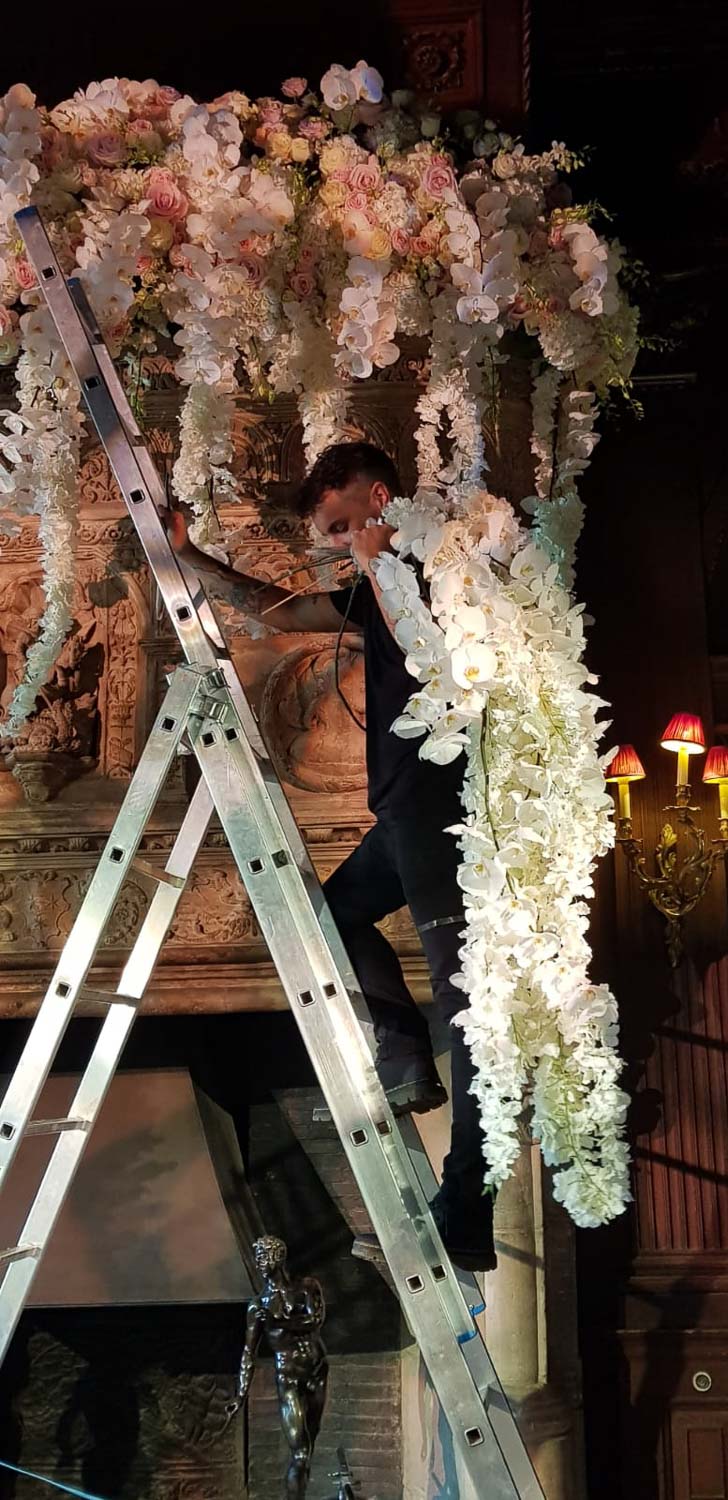 The Ceremony florals in the Great Hall
Statement urns on plinths elegantly stood at the end of the ceremony aisle containing breath-taking arrangements of cream hydrangeas, stocks, delphiniums, roses, and spray roses.
Accentuating the path Kiko took to the end of the aisle was a garden styled border. Exquisitely scented cream stocks and tall white delphiniums create a dynamic partnership perfectly in keeping with the chosen colour palette each accentuated by generous amounts of hurricane lamps containing flickering candles.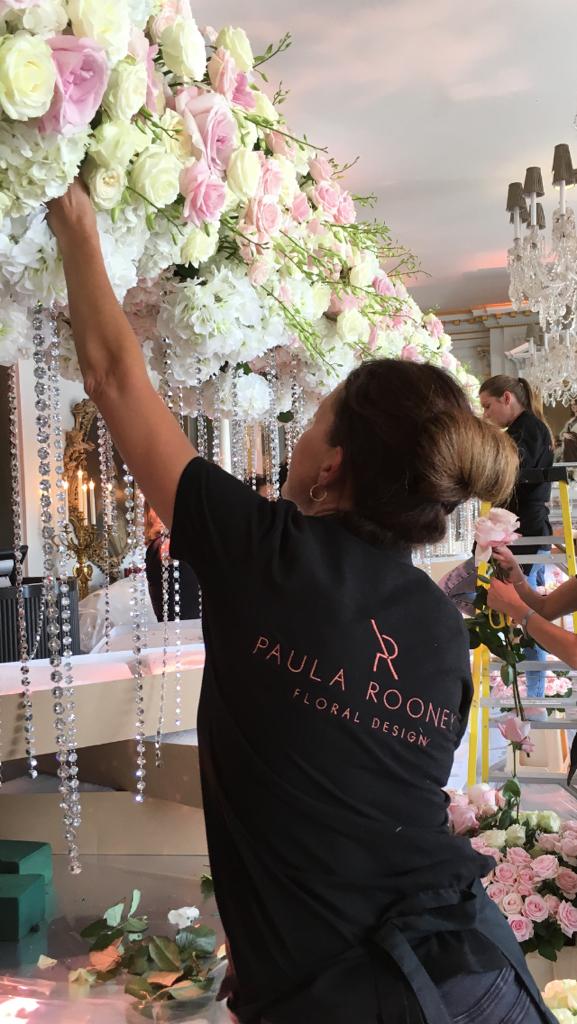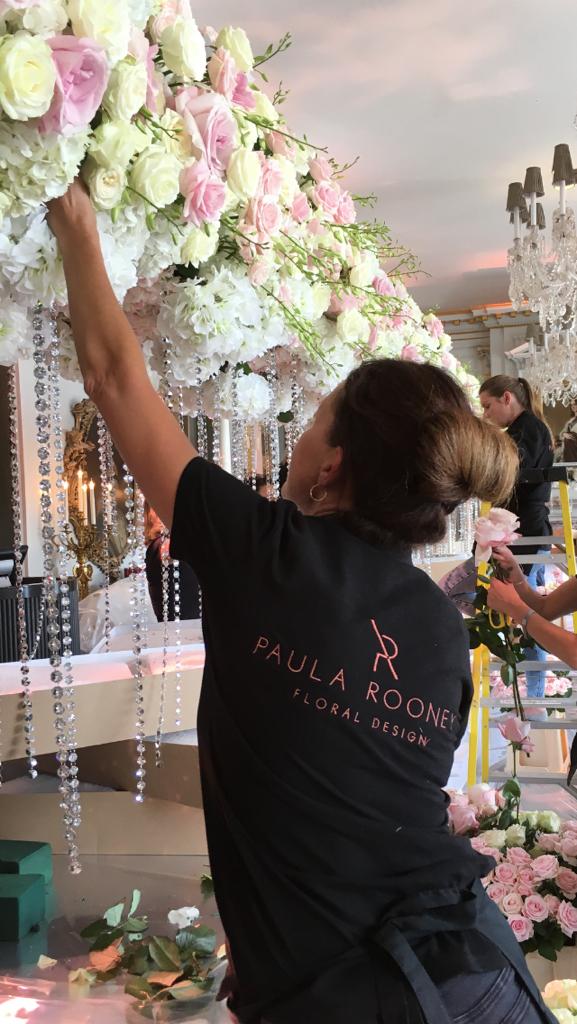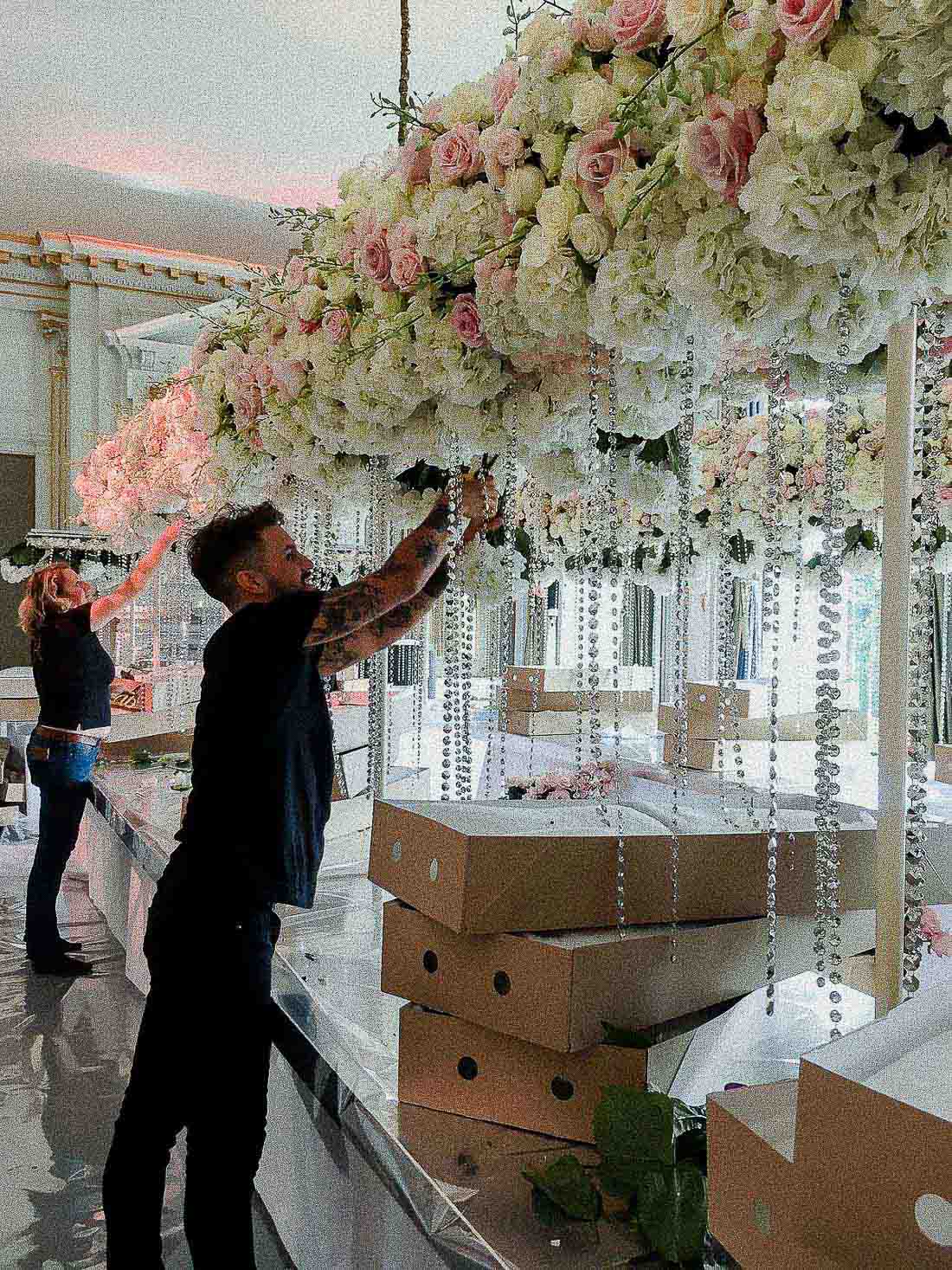 Reception florals and decor in the French Dining Room
Incorporating the mirrored table tops into the styling, allowed us to reflect the lavish floral canopies back onto the length of each dining table creating an illusion of infinite flowers. Adding copious amounts of candles at every height added to the magical ambience. Cascading crystals captured and reflected the light across the magical dining room.
During dinner
During the dinner, the Great Hall was restyled to create a luxurious late night after party space. Complimenting it was the transformation of a cosy snug, perfect for post-dinner drinks and relaxation.
Preparation
Preparation of the critical structural and support design took place at our Hampshire studio in the days leading up to the wedding. Everything else took place throughout the day of the wedding, ensuring everything was utterly perfect and ready for the afternoon ceremony.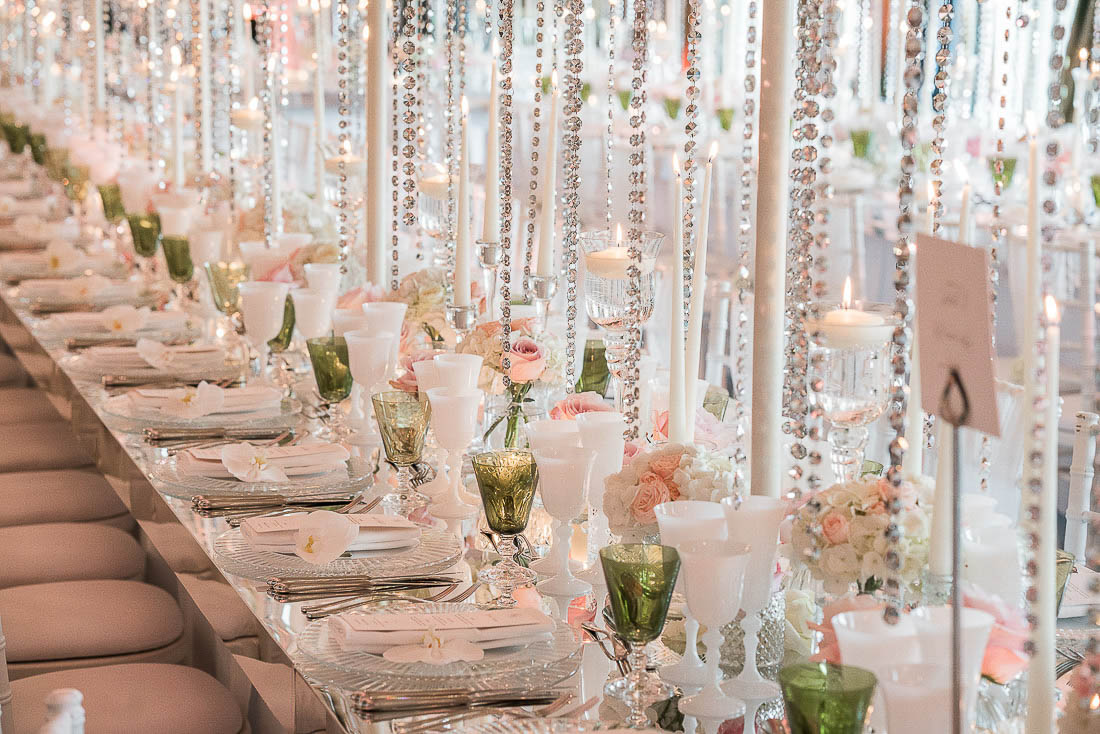 We are committed to not only flawless design but also creating once in a lifetime experiences to make a truly unforgettable floral journey for our clients and their guests
PAULA ROONEY, 2018
WITH SPECIAL THANKS
---
Firstly, to the incredible Paula Rooney Design team, who absolutely excelled on the day.
To Melanie Helen at Cranberry Blue Weddings for her extraordinary planning as well as for her consummate and dedicated support of us. Her talent at bringing such epic events to life is second to none and we relished working with her.
Thank you of course to the vibrant and charming Lydia Kenny and all at Cliveden. The Paula Rooney team felt very welcomed and supported at all times.
A very special thank you to Kiko and Carl for asking Paula and her team to be involved in their Cliveden wedding. From all of us at Paula Rooney Floral Design, we wish you a lifetime of happiness.
At Paula Rooney Floral Design we are committed to not only flawless design but also to creating once in a lifetime experiences, ensuring each couple has a magnificent unforgettable floral journey on the most romantic of days.
Paula partners with some of the most exclusive venues in the UK and internationally bringing her client's dreams alive. For more information contact our wonderful team or follow along on Paula's social media journey for the latest in floral design.
Images in this post
Feature images by John Nassari
A special thanks also go to the wonderful Daniel and his superb team at Bespoke Events, London.
Behind the scenes images (below) by Paula Rooney Floral Design.
[et_pb_4divi_masonry_gallery admin_label="Kiko and Carl – BTS gallery" _builder_version="3.17.6″ gallery_ids="4626,4627,4628,4629,4630,4633,4634,4635,4636,4637,4638,4639,4640,4641,4642,4643,4646,4647,4649,4651,4652,4653,4654,4655,4657,4659,4660,4662,4663,4664,4668,4671,4673″ gallery_responsive="on" gallery_columns="2″ posts_number="100″ show_title_and_caption="off" title_and_caption_position="1″ box_shadow_position_image="outer" title_font_size_tablet="51″ title_line_height_tablet="2″ caption_font_size_tablet="51″ caption_line_height_tablet="51″ /]
get in touch
---

PAULA ROONEY FLORAL DESIGN
The Stables, Manor Farm Yard
Upton Grey, Hampshire
RG25 2RQ
United Kingdom
+44 (0) 1256 862 999
info@paularooney.co.uk
Book a free 30 minute skype or telephone
floral design consultation with Paula

---