BEHIND THE SCENES | CLARIDGE'S WEDDING
We are privileged to introduce our Claridge's wedding to our Behind the Scenes series. Our stunning Claridge's wedding last weekend was an unparalleled space for Paula to work with. We hope you enjoy reading about our finer colour and design concepts.
---
For our Claridge's wedding ceremony tall glass flute vases with a stunning design of hydrangea, o'hara, sweet avalanche and avalanche roses in the gorgeous, delicate shades of pastel pinks, creams and blush with the slightest hint of blues and lilac worked with the column designs and added a delicate balance to all of the floral installations. Two stunning asymmetrical column designs stood at the top of the aisle and framed the couple beautifully as they said their vows. Paula loves creating focal features for her couples as they enhance the beauty of their wedding day.
Clusters of hurricane vases with church candles on plinths elegantly stood at the end of the ceremony aisle. This breath-taking wall backdrop of pillar candles, ombre cluster pots of roses and hydrangeas at the end of the aisle was the most perfect entrance for the bride. The mirrored reflection of candlelight accentuated the light and created a beautiful warm atmosphere.
A breath-taking floral full table runner ran across the registrars table and cascaded onto the floor. The runner complemented the columns perfectly with the ombre colours mirroring the other designs. The ceremony runner was transformed to the top table for the evening celebration. Paula masters her design elements for multi-faceted purposes if her couple's wish for a transition within their day.
Designing our couple's Claridge's wedding at one of London's finest hotels was a marvellous experience. When I was approached about designing my client's flowers for their Claridge's wedding I couldn't wait to work with their incredible spaces again! Claridge's is an exemplary vision of luxury within my industry so working with them to create our couple's wedding day was a dream partnership. Both my team and theirs worked around the clock to bring a timeless and elegant ambience to the already iconic and stylish interior of Claridge's.
PAULA ROONEY, 2018
MEET THE TEAM
---
Claridge's | Set in the heart of Mayfair London, Claridge's unique heritage makes the hotel one of the world's most sought after award-winning venues for weddings and events. Our friend, Hope, Head of Events at Claridge's is a dream to work; she thoroughly understands the personality of the hotel and blended our couple's wedding vision to emphasise the hotels assets. Working at Claridge's and designing for their iconic space was a thrill for Paula and her team of expert florists. Paula's flower installations perfectly blended with the timeless decor of her wonderful couple's Claridge's wedding. Nothing quite compares to working at London's most sought after hotel institution. Claridge's dedication to offering the highest luxury service is an ethos that Paula Rooney Floral Design also harbours.
Brown's Bride |We love working with Brown Bride's; their contemporary yet elegant style exudes beauty.
Elizabeth Cake's Emporium | Design and quality go hand in hand with all of Elizabeth's cake creations. Working with Elizabeth on our Claridge's wedding was as always a grand affaire where the final result was outstanding. Our ombre colour palette's complimented one another and it was wonderful to see Elizabeth's latest cake creation in the ballroom for our newlywed couple's big day!
Johanna Rohrig | Violinist, Johanna Rohrig, left us speechless. Her performance throughout the wedding was captivating and flawless. Her musical influence hugely contributed to the romantic feel of the sensational ceremony.
Furniture 4 Events | Innovators in their field, Furniture 4 Events supplied the stunning furniture for our Claridge's wedding. Their range of amazing furniture perfectly worked with the decadent interior of Claridge's. Their team seamlessly transitioned their range from day to evening setting to create a different atmosphere.
Amy O'Boyle | Amy was our couple's photographer for their special day; driven by images from the 1950's Amy works to create timeless photographs for her couples that capture the serene and fun moments throughout their day! We cannot wait to see the developed photographs and share with our readers in our 'Real Wedding' series.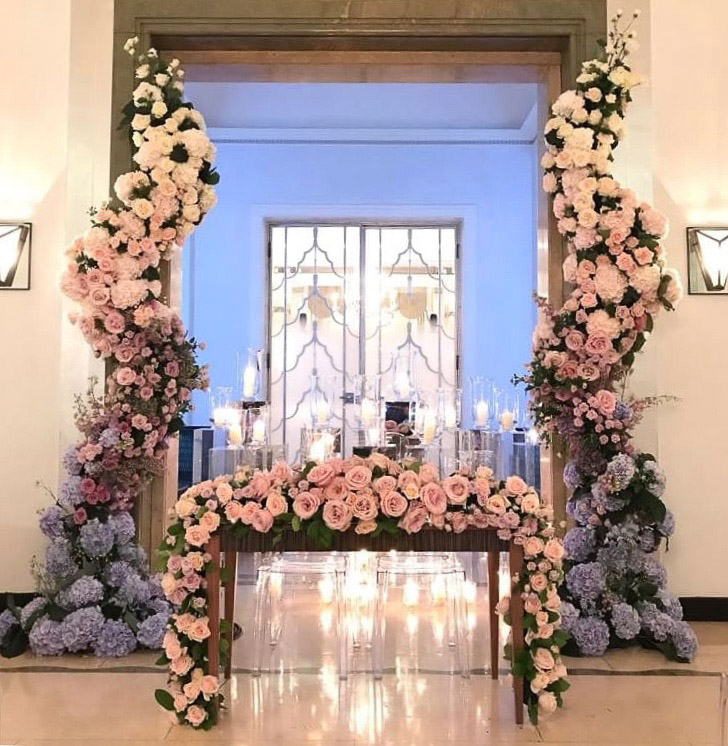 WITH SPECIAL THANKS
A very special thank you to our special couple for asking Paula and her team to design and style their Claridge's wedding. From our first meeting with the lovely couple and Hope at Claridge's to the wedding day we all worked together to create the most marvellous atmosphere in the finest London venue. Here is to a lifetime of happiness to the beautiful couple, and to creating more spectacular weddings with our friends and collaborators at Claridge's in the future!
Paula partners with some of the most exclusive venues across London to bring her client's desire alive. For more information contact our wonderful team or follow along on Paula's social media journey for the latest in floral design.
get in touch
---

PAULA ROONEY FLORAL DESIGN
The Stables, Manor Farm Yard
Upton Grey, Hampshire
RG25 2RQ
United Kingdom
+44 (0) 1256 862 999
info@paularooney.co.uk
Book a free 30 minute skype or telephone
floral design consultation with Paula

---