With its historic yet contemporary design, the Corinthia Hotel London was the perfect setting for Marie and Hisham's elegant, winter wedding. From the simple, clean bouquets of beautiful white avalanche roses to the bride's stunning, intricate dress, the whole day was a testament to real, modern luxury.
The bridal bouquet was bound with ivory ribbon and secured with pearl pins. A locket with photographs of Marie's mother and father, who are sadly no longer with us, along with their wedding rings were bound to bouquet. It was a very emotional moment for everyone when the bride saw her flowers for the first time and was able to have her parents with her as she walked down the aisle.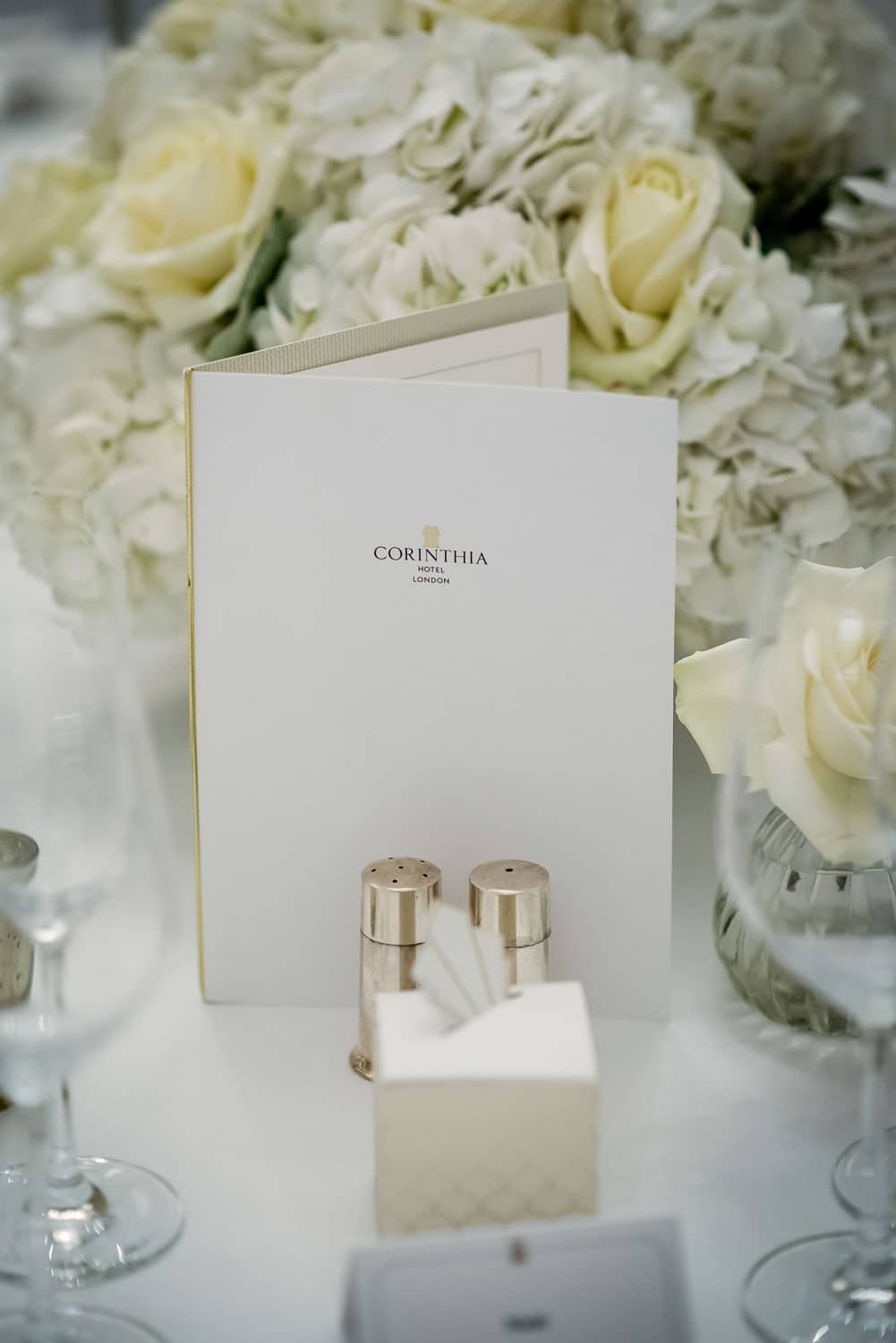 A sumptuous, low arrangement of immaculate white roses, hydrangea and eucalyptus adorned the registrars table before being moved to the sweetheart top table. The arrangement, having been present at both the ceremony and the wedding breakfast, would then be placed at the resting place of Marie's parents which was a lovely way of bringing their presence to the wedding.
Two white urns with full, loose arrangements of roses and hydrangea framed the happy couple as they enjoyed the wedding breakfast.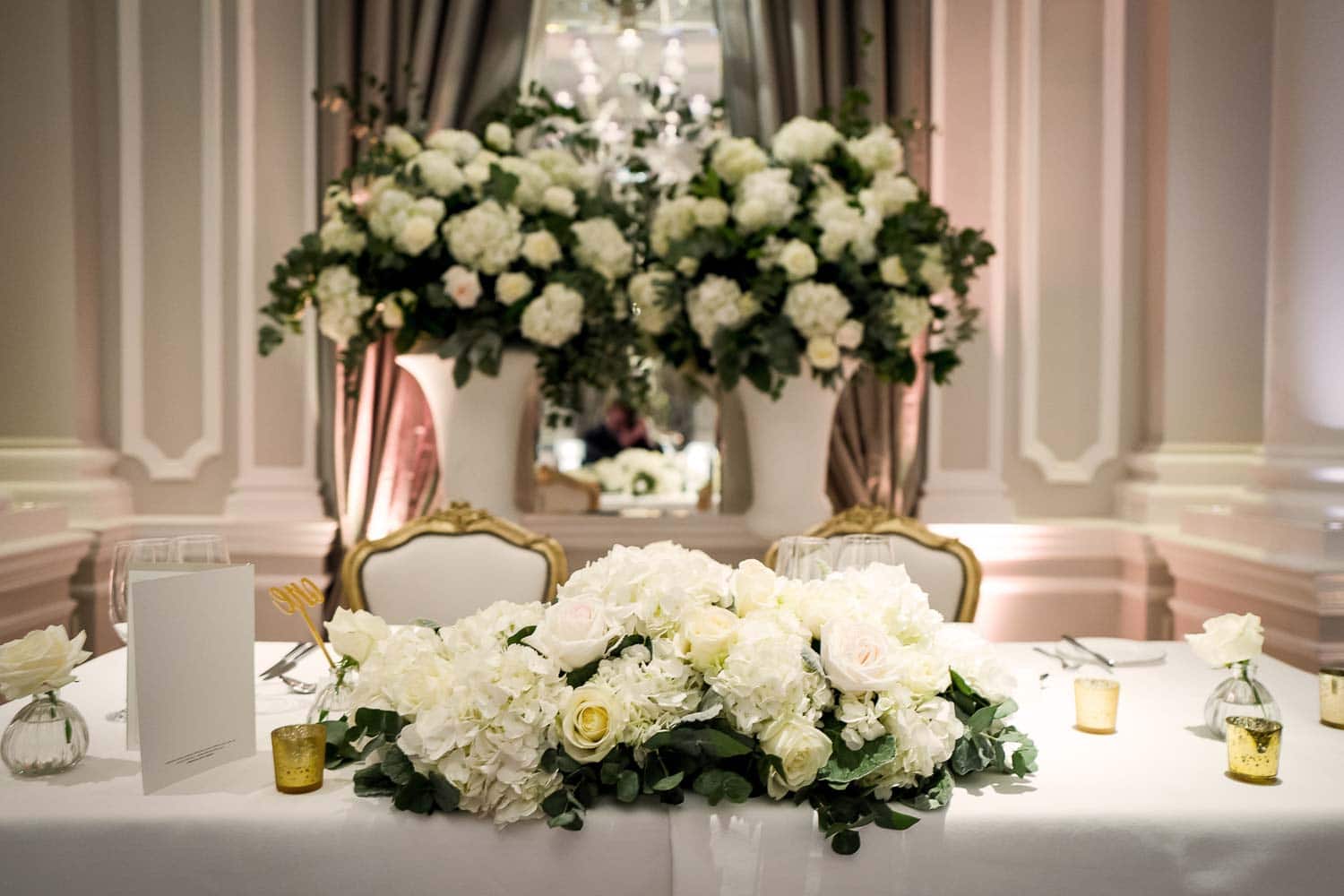 Gorgeous, low arrangements of roses and hydrangea were placed in the centre of the tables whilst two tall arrangements highlighted the tables of immediate family in spectacular style.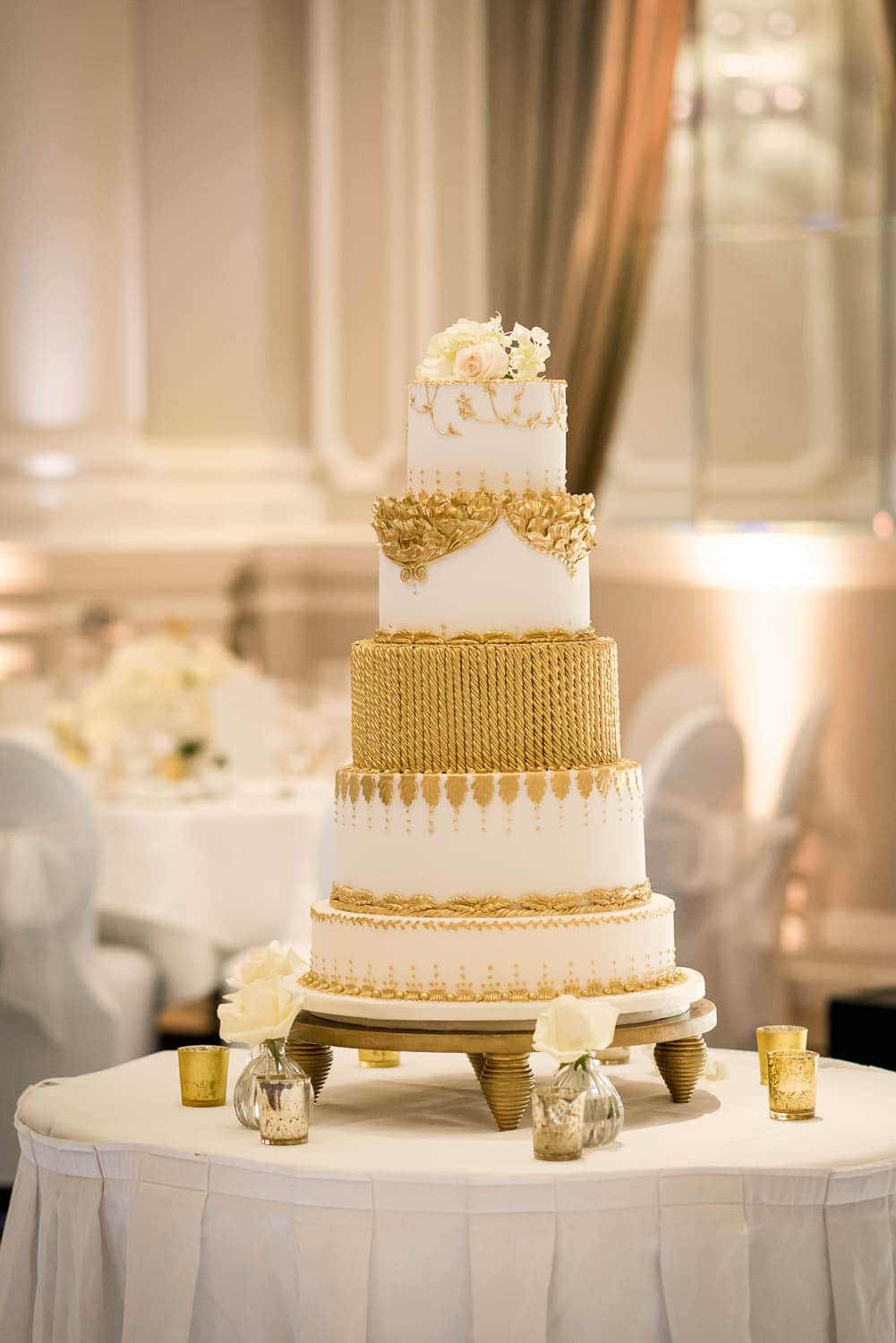 One of the things we enjoy most here at Paula Rooney is the sheer privilege of meeting all of our gorgeous couples and being able to share their special day. We were over the moon to have met such a wonderful couple and Marie very kindly did a quick Q&A with us…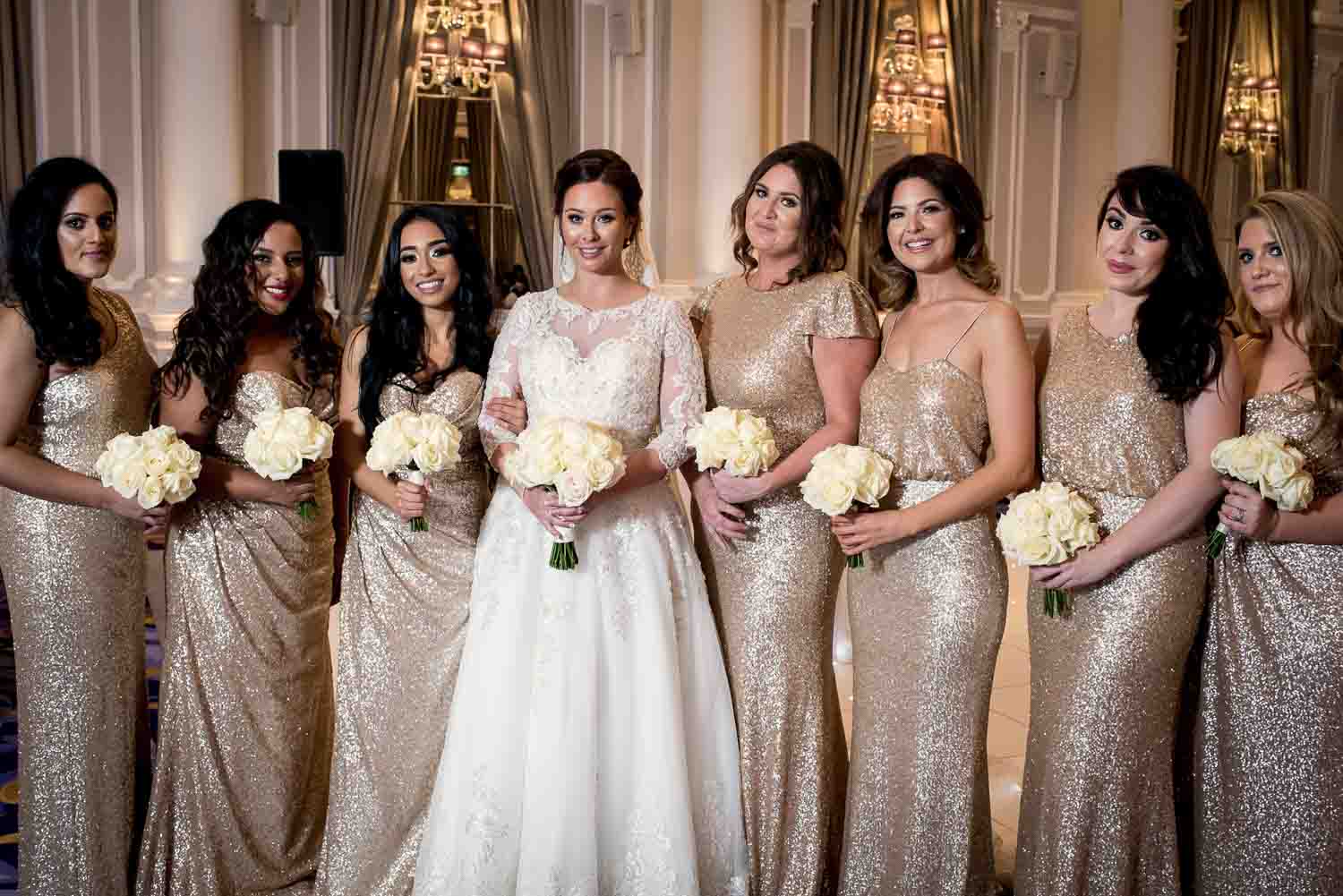 Why did you choose to get married at The Corinthia?
So we got married at The Corinthia because that's where I knew for the first time that I loved Hisham. We went for dinner at their restaurant and had drinks there a few times and eventually stayed in their beautiful suites. He also told me the first time that he loved me by tickling my back and writing it on my back. So lots and lots of lovely memories at the lovely hotel. 
Tell us about the proposal!
Hisham proposed to me in New York which was a trip I booked for his birthday and I also booked a helicopter ride for him to see New York in all its amazing glory. I was busy filming the skyline and I got a jab in my ribs. He jogged my video and true Marie style, I turned to moan at him for ruining my video with a few swear words chucked in for good measure and there it was the most beautiful ring and the most nervous looking Hisham. I had no idea as I had booked the helicopter trip for part of his birthday treat so it was one brilliant surprise.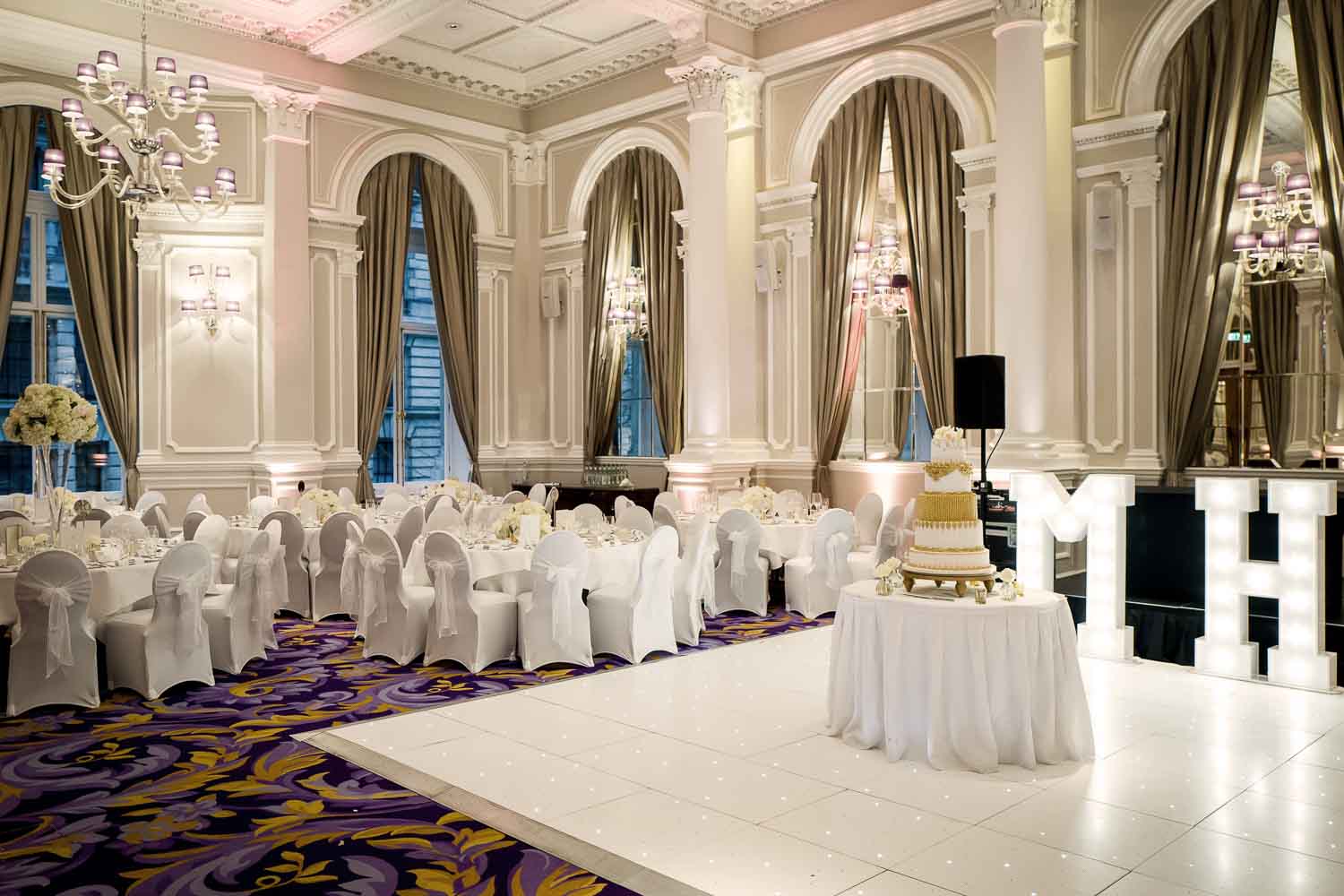 How did you hear about us?
Paula Rooney had been recommended by the lovely Hannah (the wedding planner at The Corinthia in 2016) and she just knew that it would be perfect for me and she was absolutely right. From start to finish the service and of course the flowers were flawless.
What was it that made you decide to let us share your day with you? Can you tell us about your journey with us up to your wedding?
Speaking to Emily for the first time on the phone pretty much sealed the deal for me and I felt I was speaking to a friend that I had known for years. She took my thoughts and ideas and turned it all into a fabulous vision. The mood board that we received in the post with the scented box was just out of this world and I can't fault a single thing. When Emily and I met for a coffee to go over the ideas, I honestly thought wow – what an incredibly personalised service and what a way to treat customers – she was just so, so sweet and beautiful inside and out. I of course started following you guys on social media outlets and seeing real life pictures was fabulous but, honestly it was the way Emily gave such an excellent and personalised service that just was the ultimate deciding factor as I knew that I just clicked with her.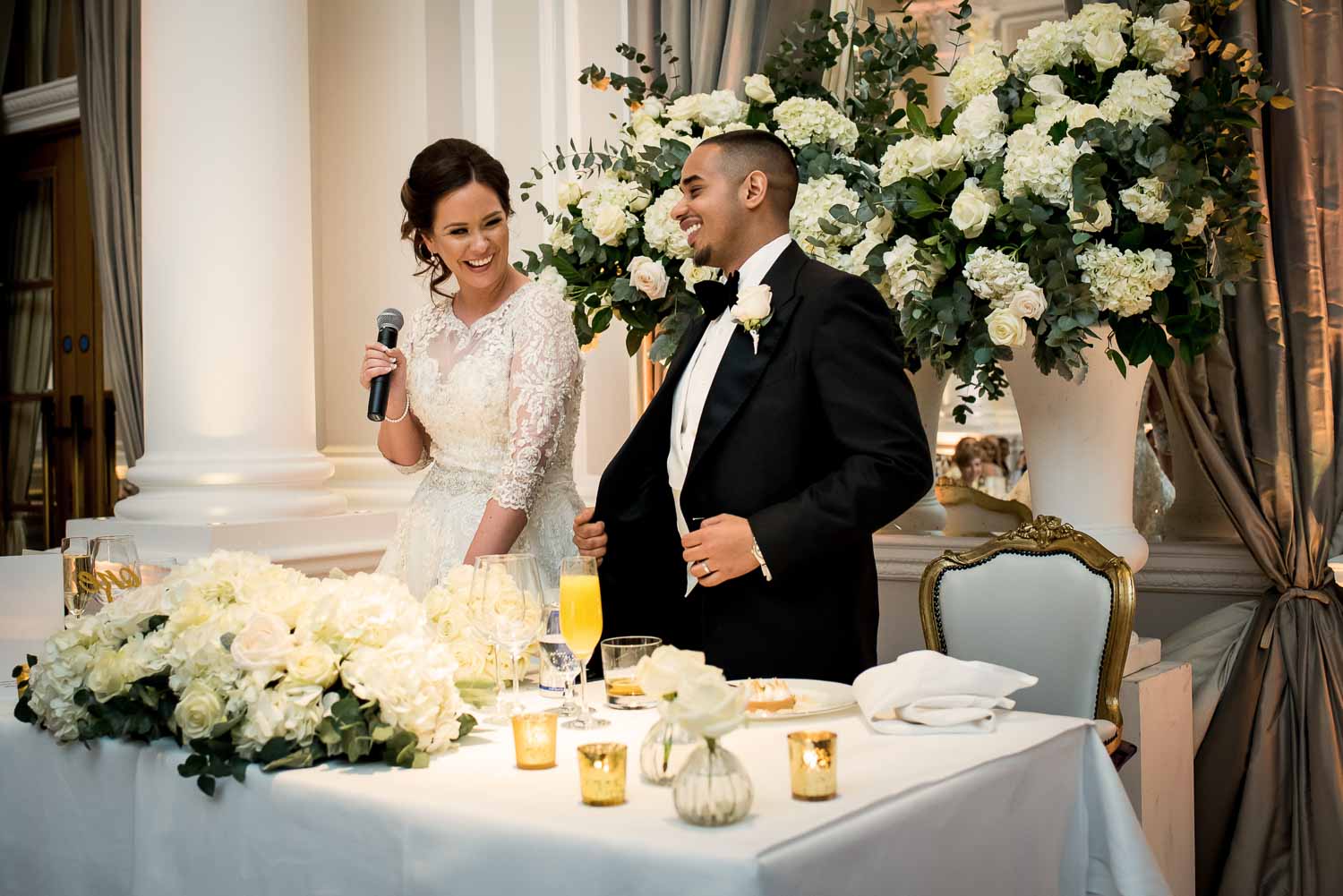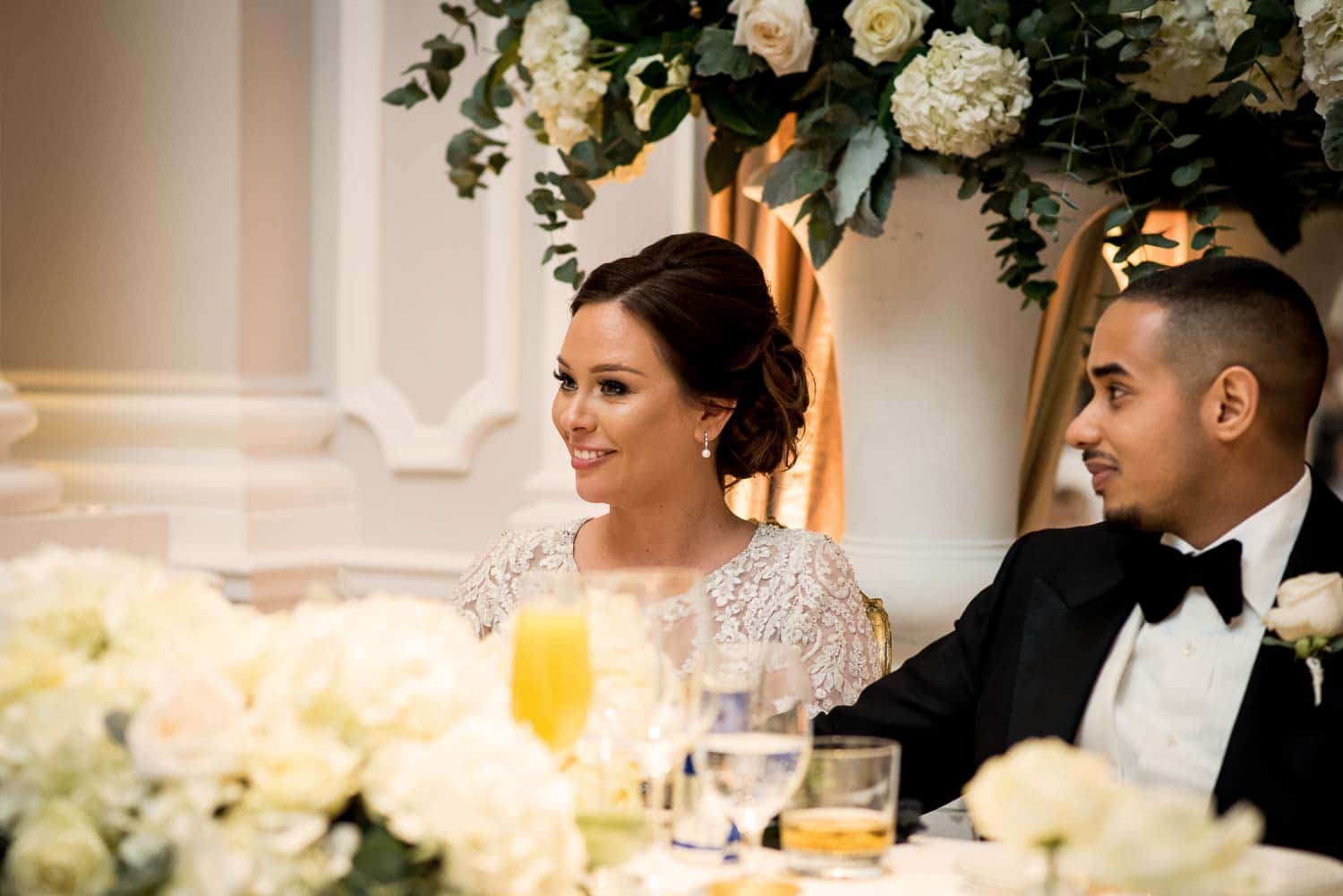 How did you feel when you first saw your flowers?
As you know I cried when I saw the beautiful flowers, (that set Emily off!) they were breath-taking and I think the most beautiful part was when they were arranged around the top table that just took my breath away. Hisham doesn't ever compliment things like that in day to day life but even he said how perfect they were. 
What was your favourite part of your day?
My favourite part of the day was when I remembered Emily's advice and that was to just take a minute with Hisham and look around at all our family and friends. It was just an overwhelmingly happy feeling. We felt so lucky. 
Favourite picture?
Our favourite picture was us sitting at the top table and listening to speeches laughing away. I would also say the one where he is looking at me with adoring eyes, but he would tell me to be quiet and stop being cringey! We also had a great photo with Santa too. 
If you could re-live one moment of the day what would it be?
If I could re-live the moment again, it would be walking up the aisle and seeing his face. He looked so handsome and I just wanted to squidge him.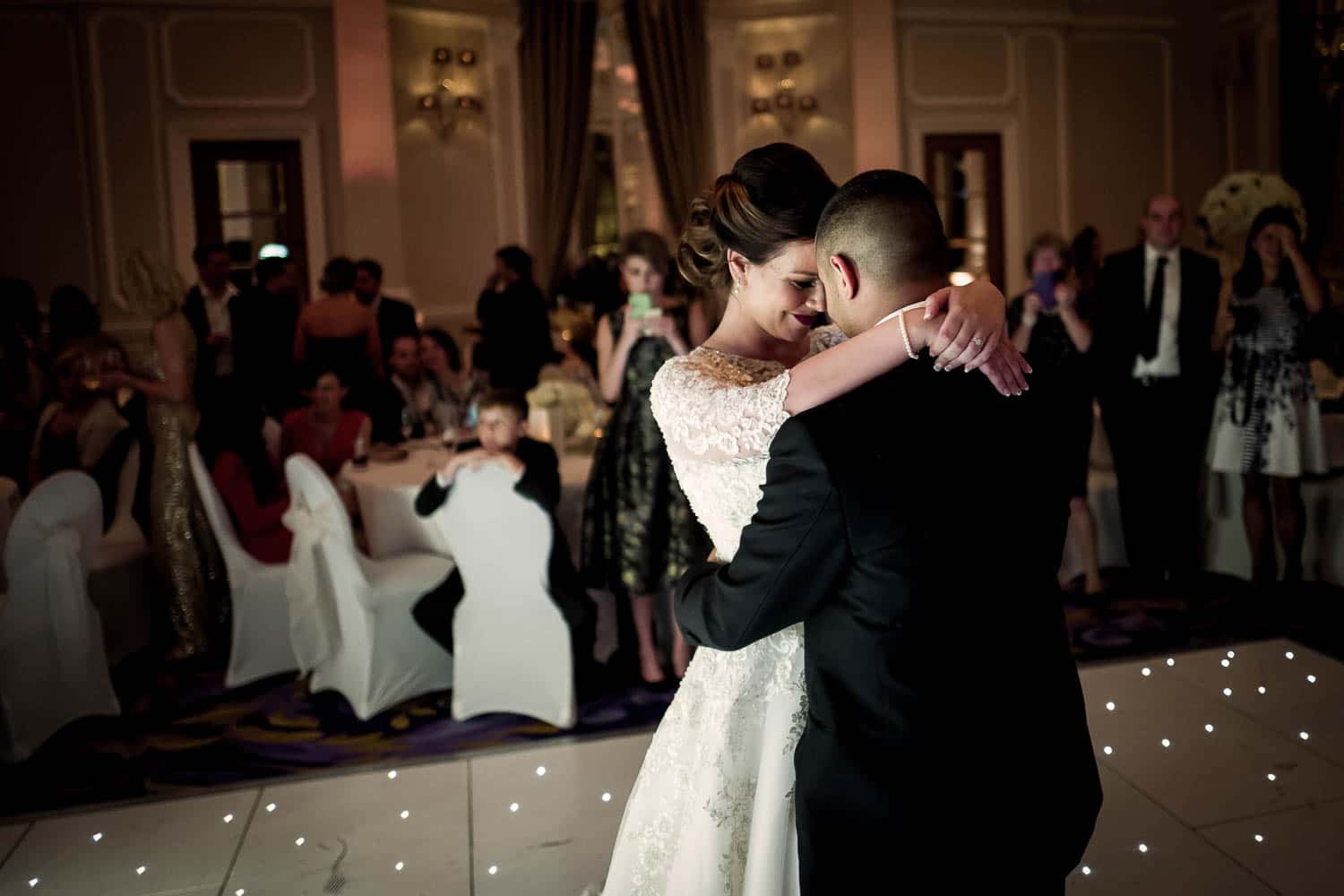 Thanks so much Marie and Hisham for letting us be part of your beautiful and emotional day and we wish you every happiness.
We'd also love to take this opportunity to share the most special news – Marie and Hisham have since announced that they are expecting the arrival of their first baby in December! We cannot wait to meet the new addition for a cuddle!
Last year we had the pleasure of dressing the stunning Eastnor Castle for Leah and Baron Jon's elegant summer wedding, planned and executed perfectly by Louise Perry of Louise Perry Weddings. Excitement and happy anticipation filled the air as we set up for our...
read more
get in touch
---

PAULA ROONEY FLORAL DESIGN
Priory Farm, Andwell
Hook, Hampshire
RG27 9PA
United Kingdom
+44 (0) 1256 769 039
info@paularooney.co.uk
Book a free 30 minute skype or telephone
floral design consultation with Paula

---
Schedule Now