There is no greater joy than walking through an art gallery admiring the stylistic, technical characteristics and exquisite details of the various different paintings. It is so easy to lose yourself in the artwork, sharing in the subjects' story or imagining yourself viewing the landscape before your very eyes. These money-can't-buy treasures will be there for generations to enjoy and are an incredibly important part of our world's rich culture.
What makes something priceless? Is value a personal appreciation, much in the same way that opinion is? Art is one of those practices that we feel is truly a blessing and it is always so exciting seeing new forms of artistic excellence being developed. For our own artistic craft, as floral artists, it is always so important that we create work that is timeless in style, full of narrative and long-lasting qualities,that create moments of joy for others to enjoy.
Did you know that the most simple of flowers, such as tulips, were once considered priceless rarities? The idea that flowers are a luxury in life goes back to the sixteenth Century, after flowers were introduced to the Netherlands from Turkey, creating vast opportunities to present flowers in social occasions and in the home. Cut flowers have always been seen as one of life's greatest joys. You only need to look at art that surfaced in the seventeenth Century that contained beautiful paintings of installation flowers to understand the importance that floral artistry had in society. Flowers were incredibly valuable and a high price was paid for the smallest arrangements.
Luckily the cost of flowers has become a manageable luxury for us all and beautiful, exotic and rare flowers are available to us to create our own interpretations. We simply adore weaving different techniques and drawing upon hundreds of years of inspiration to develop new styles. We honour best practice when we prepare our floral installations and love to use seasonal blooms that create beautiful statement pieces.
Our technical expertise lies in developing concepts and creating rigging solutions that enable us to not only think big, but to execute technically demanding and impressive work. We will always encourage our clients to consider a creative approach to their floristry and take pride in enveloping years of experience to bring the most intricate of installations to life. We adore working in challenging spaces and have fantastic relationships with the UK's most beautiful venues and locations for social entertaining. Our team have installed life-sized trees, suspended sparkling chandeliers and covered walls to create interiors completely designed using flowers — we believe that anything is possible and have a fierce commitment to producing work of sublime quality.
If you would like to discuss a new concept for your next flower installation then we would love to hear from you.
Paula.x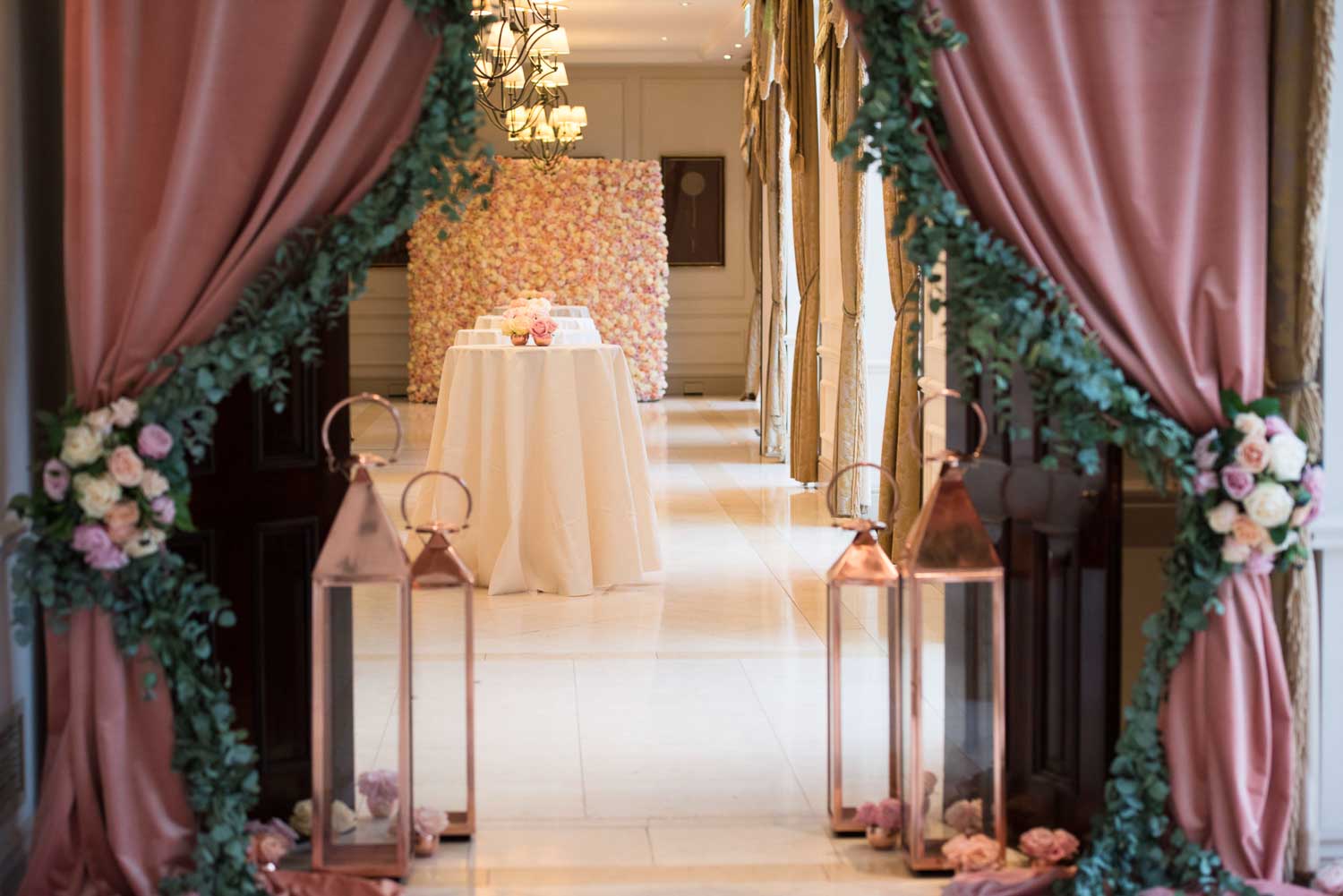 With its historic yet contemporary design, the Corinthia Hotel London was the perfect setting for Marie and Hisham's elegant, winter wedding. From the simple, clean bouquets of beautiful white avalanche roses to the bride's stunning, intricate dress, the whole day was...
read more